Travel journal 28.07.2021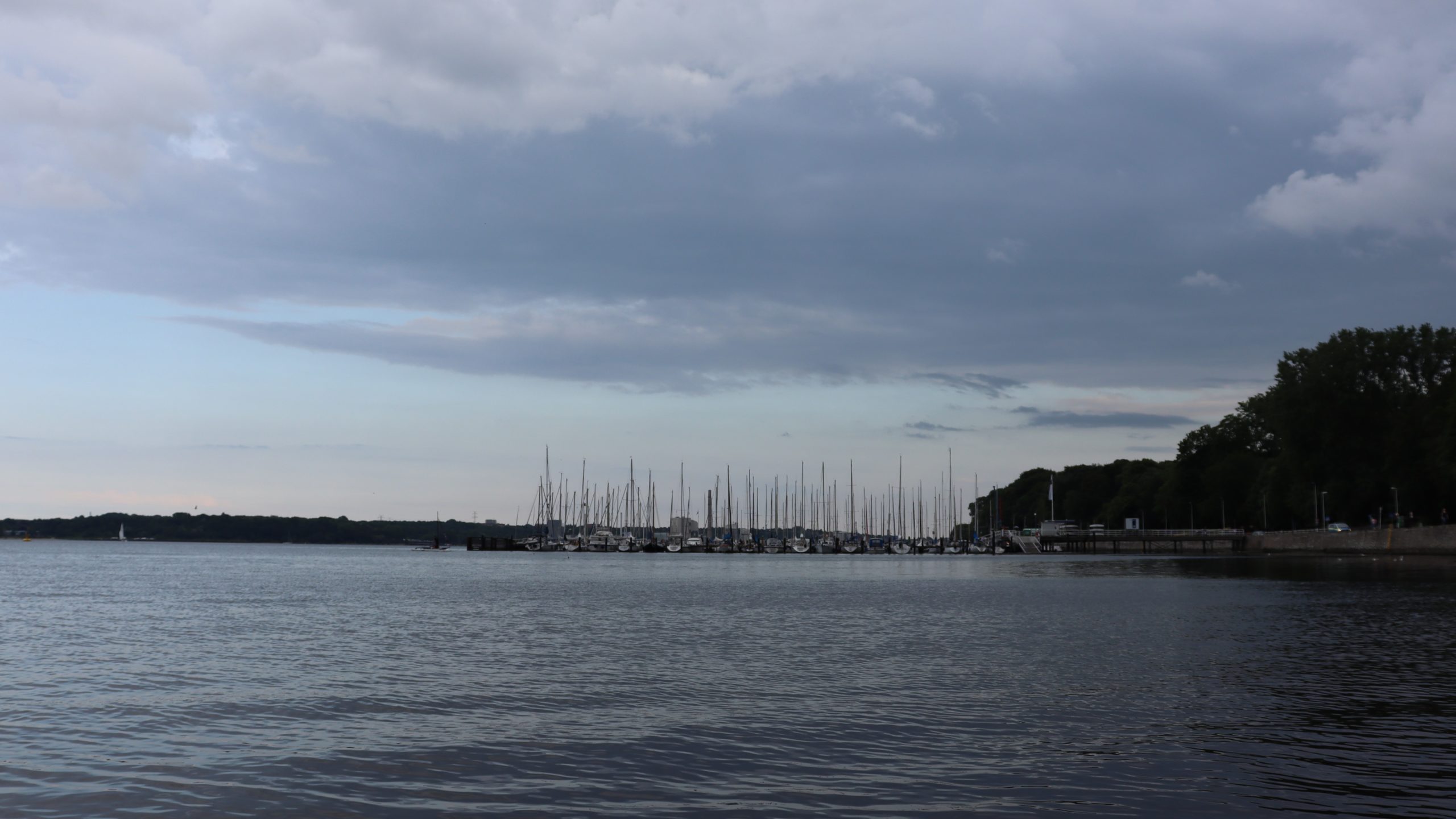 Hello, nice that you have a look at our travel diary again today, day 2 on 07/28/2021 – travel with our Posti bus towards Kiel.
The start in the day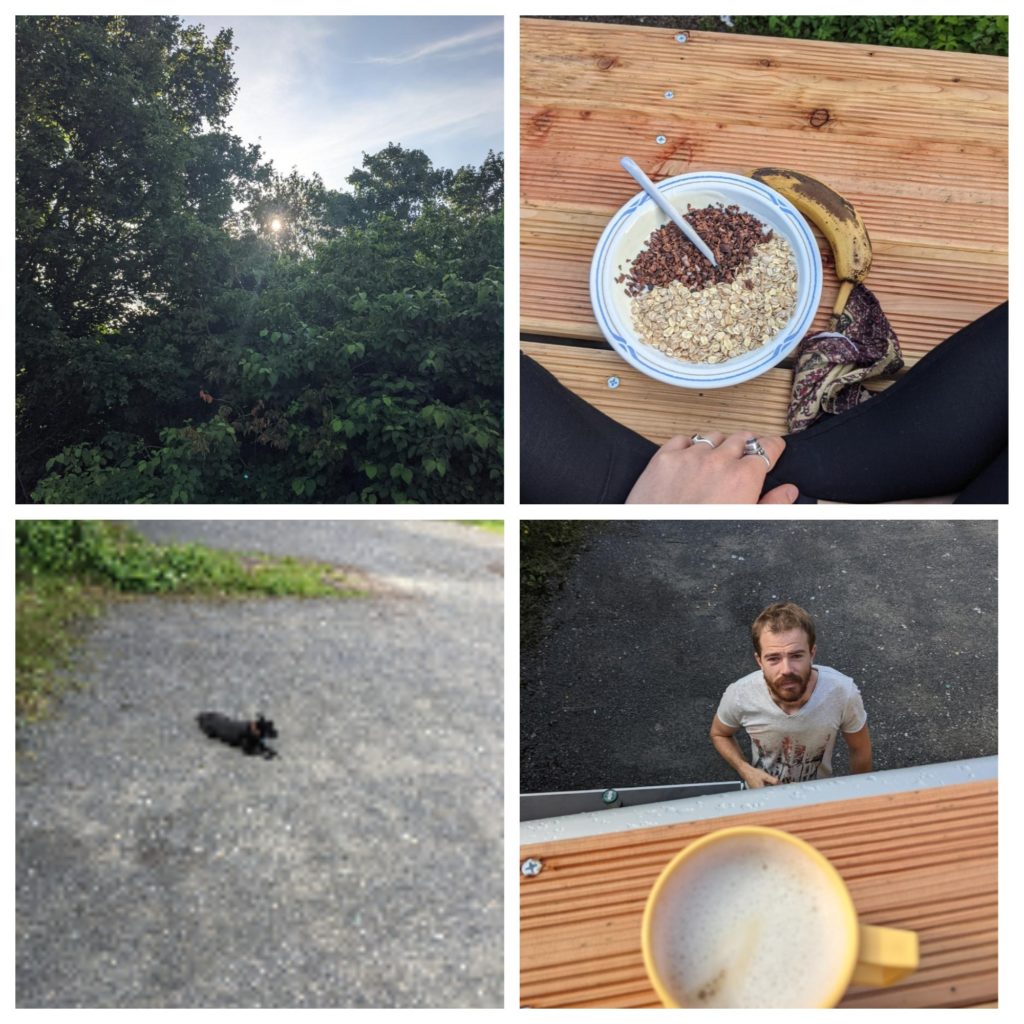 The day started very comfortably for me, on our roof terrace with a little meditation. As I sat up there, I noticed how dirty the parking lot is. So I decided for myself that I want to leave every space we are allowed to stand on, cleaner and more beautiful than I found it.
After the two men in the bus woke up too, I had a quick breakfast and Max made us delicious coffee.
I would like to start every morning so nice and relaxed.
After the great start to the day, we went for a bike ride to allow ourselves and Koda a little exercise before we got back on the bus.
The drive
The journey started well again. Unfortunately, during a short break, we noticed that the bus was losing diesel (again). How good that I have a car mechanic as a friend ?
We've had the problem before, on the way to Italy. Only then it was much worse, because we didn't have any spare parts with us. Fortunately, Max is so smart and always has everything that has ever broken on a trip – and a lot comes together in an old bus – as a spare part. This enabled him to reinstall the old diesel line, which he had completely replaced with a new one after the last incident.
After less than an hour we were able to get back on the road again – Max, my hero! The rest of the journey was then without any problems.

Driving past Hamburg, we sent greetings to the family living there. At the container docks, which we passed at walking pace cause of traffic, it stank quite a bit. Nevertheless, we definitely want to make a stop in Hamburg on the way back, because we are sure it has some nice spots too ?
Arrived in Kiel
We found a great parking place, this time with electricity, and for a small fee. 10 minutes by bike to the canal.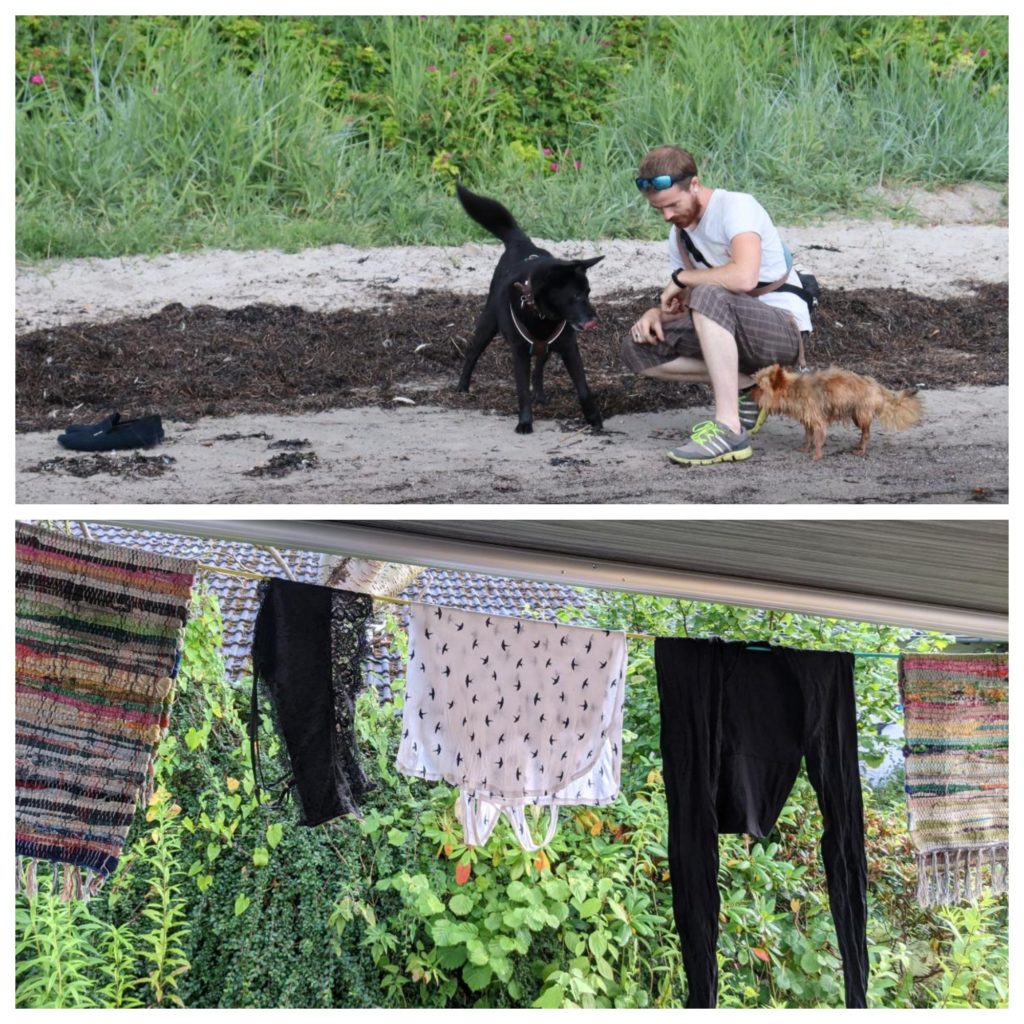 So we got on our bikes and drove off. When I arrived at the canal, I was completely in love. Shoes off and into the water. Koda was able to make new dog acquaintances, and we enjoyed the view.
Seagulls that scream and sand between my toes. Is there anything more beautiful?
On the way back from the sea, it unfortunately started to rain… a lot. We had just taken shelter when it occurred to us, that the roof hatch is open in the bus. I decided, without hesitating, that I would ride to the bus anyway and Max would wait with Koda until it has stopped raining.
Completely soaked, I arrived at the bus to limit the damage and to close the roof hatch for what felt like 2 minutes until the rain stopped.
Max and Koda arrived back relatively dry some time later. Koda did so great with cycling. You'd think we'd practiced it for months. I am so proud of them both ?
Wet clothes and hair, a smile on my face and pretty exhausted, i was able to rest again on the bus. After a delicious dinner made out of leftovers, because none of us really wanted to cook anymore, I am now sitting here and writing down all of today's experiences.

It's amazing what can happen in one day ?
My learnings today:
Rain is pretty wet.
Hamburg can really stink.
Max and Koda are my heroes.
I love the sea.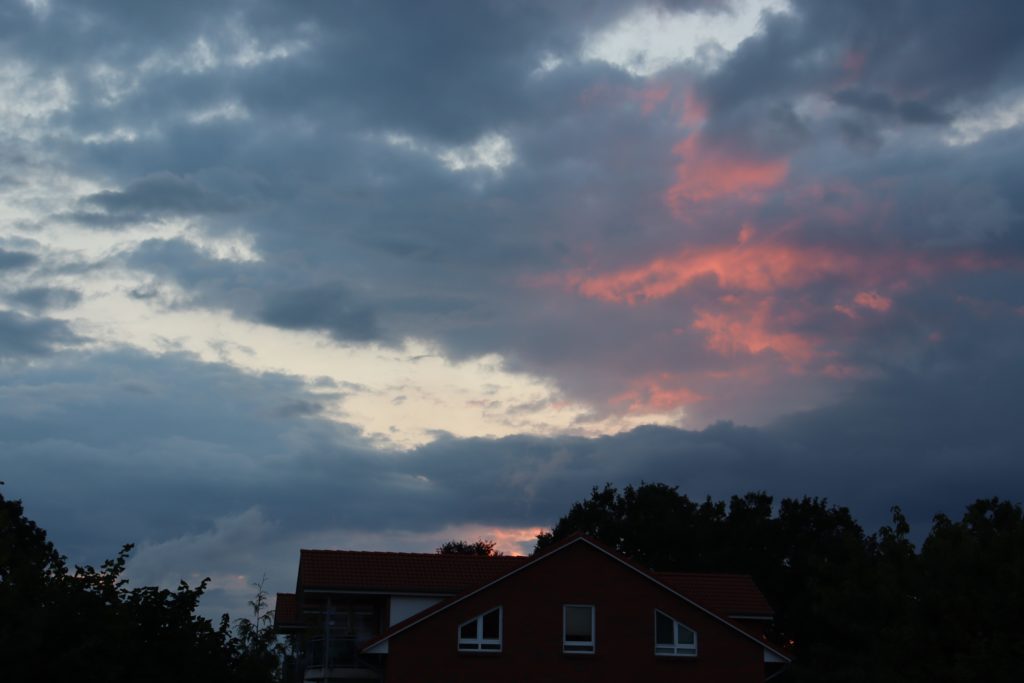 Now I wish you a good night, a great morning or a wonderful day.
Lots of love,
Ronja
---
---