Schweden, the search for the best places to stay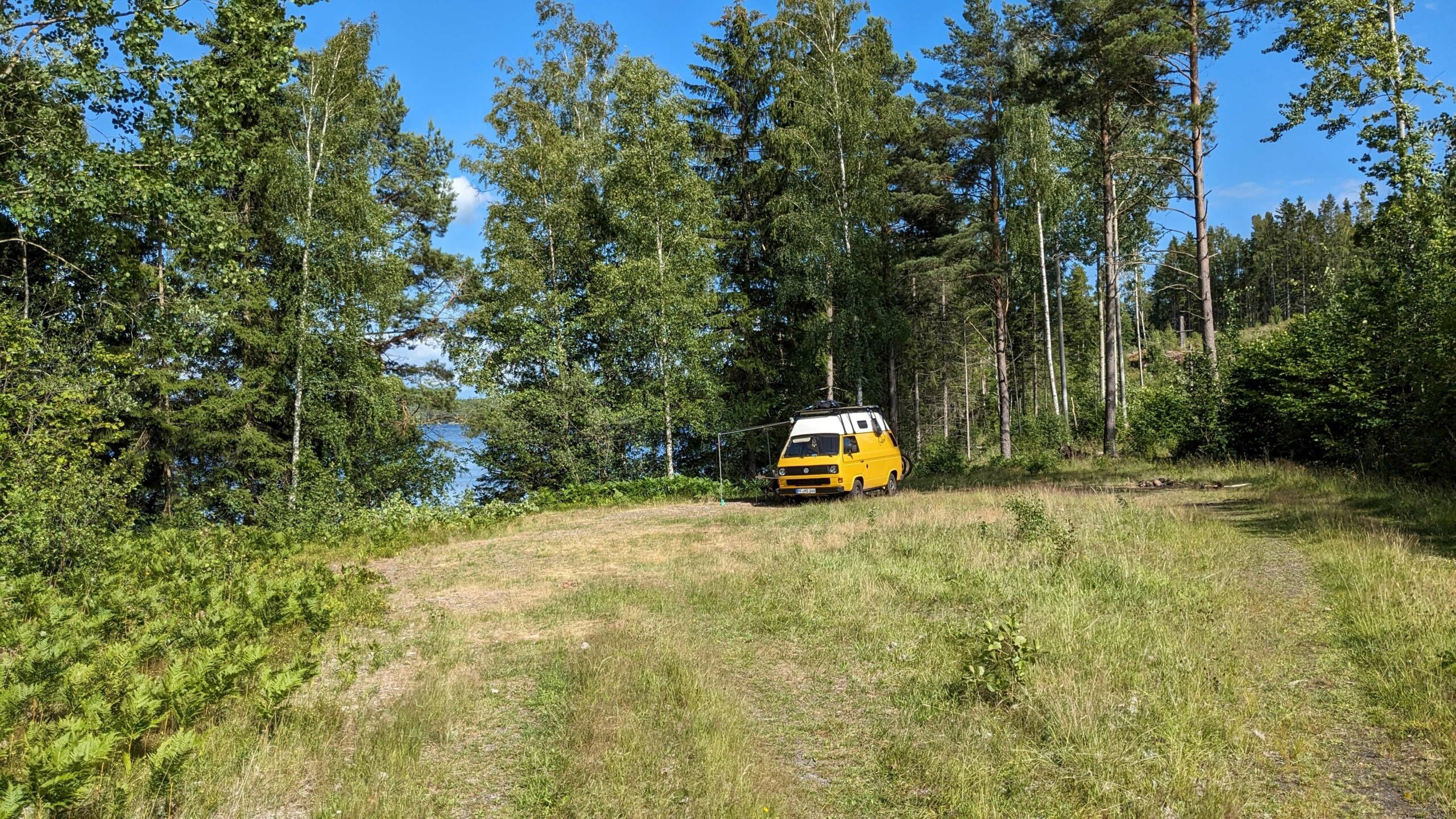 In this travel diary I take you with me on our journey through Sweden and our adventurous search for the best camp spots.
06/30/2023 – adventure camp spot search
On June 30th we left our last camp spot, almost directly on the lake and all alone, only because it had so many ticks 😔.
After a leisurely morning with breakfast and yoga, we packed everything together and drove off.
On the way, we refilled the water tank and bought some more groceries. That was a shopping tour, I tell you 😂. We haven't spent so much money shopping for a long time, and we haven't bought so many good things for a long time 😂. From delicious kanelbullar (yes, they were vegan!) to a kombucha to 1 kg of vegan mince, everything was included.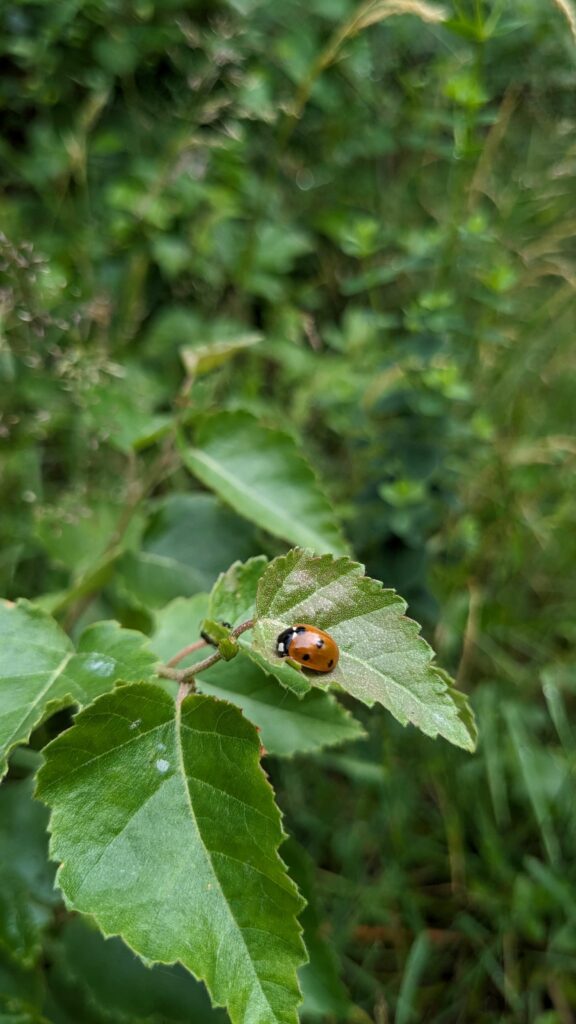 We had originally already chosen a location, but then I had the idea on the way that we could also see if we find a spot at the Vättern. The second-largest lake in Sweden. So we looked again on Google, where we could stay.
A "small" detour in sweden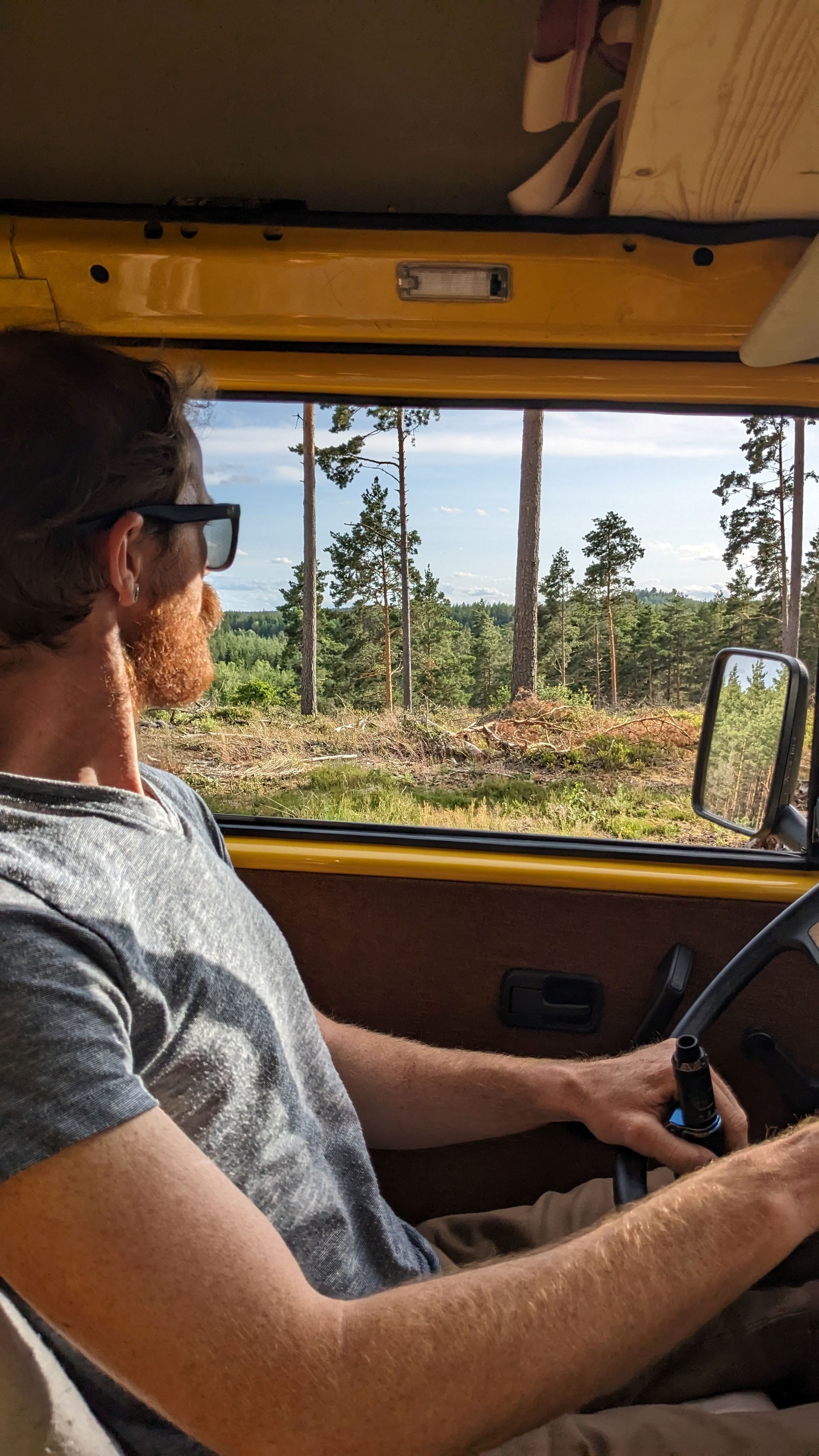 Then I found something that was really just a small detour, so we went there. Unfortunately, there was a do not enter sign just before the lake, so we couldn't go any further.
A little further would have been another good spot.
So we drove through the forest very adventurously over hill and dale.
Shortly before the lake there was a large area of sand and Max confidently drove into it. Unfortunately, we then got stuck and had to dig our way out so that the bus could drive out backwards.
It was enough for me at that point and I wanted to go back to the road and continue towards the actual parking space. But Max didn't want to give up and tried again.
Unfortunately, we got stuck even deeper. With the help of sticks and digging, we finally got out. So lucky!
Going further
After that it was enough for me and I didn't want to drive so long to the next parking space. So I looked again and found a beautiful parking space right on the Vättern lake.
So we went there and only had to drive down a little mountain adventurously until we could really stand right by the lake.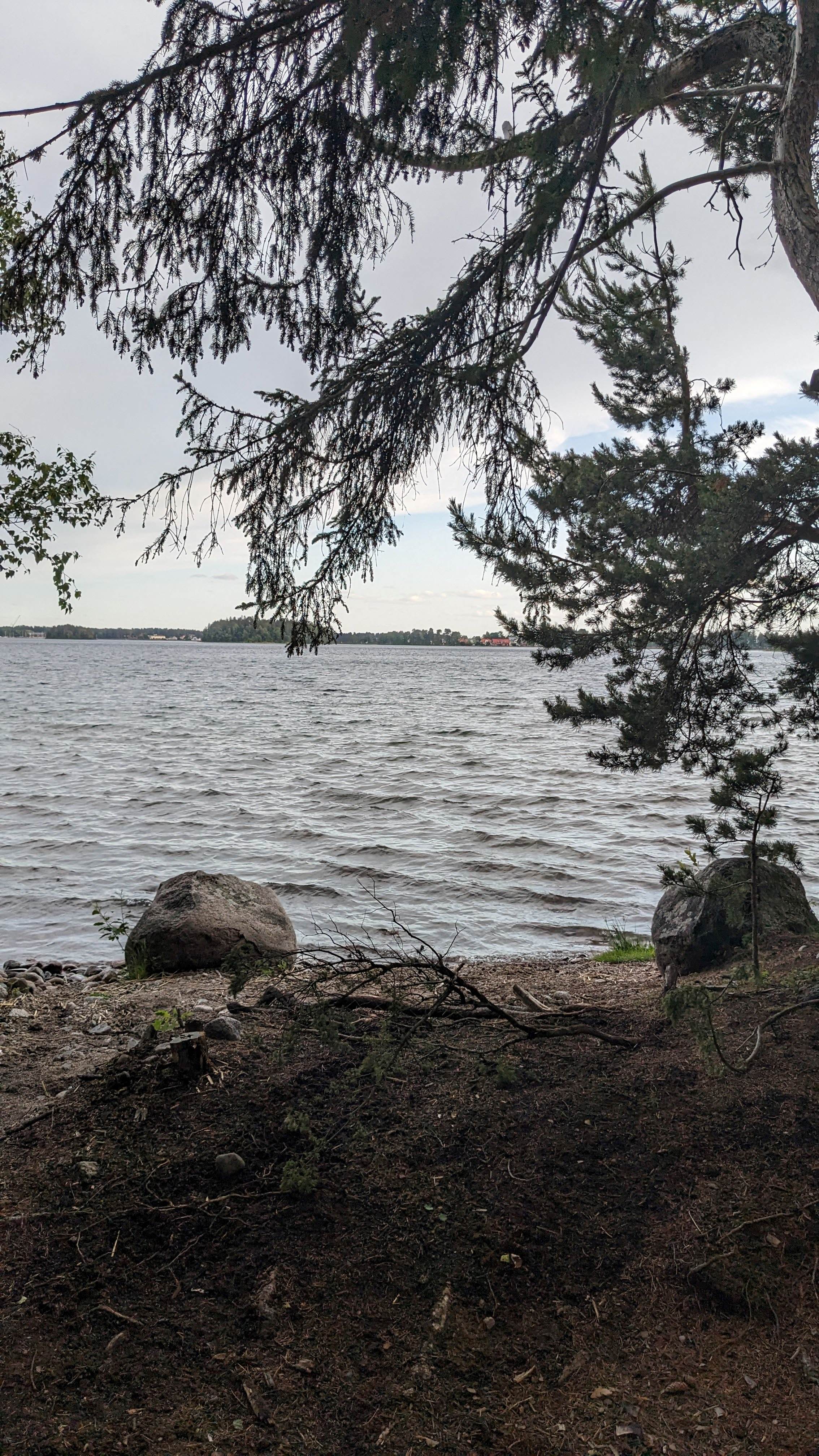 Arrived for the night
So there we were, alone, because the other campers are further up and behind – out of sight and hearing – and right on the water. The only downside was that the wind was pretty strong and it was really cold.
So we enjoyed the view and the sound of the waves. Because at the lakes it was super quiet so far and you didn't really hear the water. It felt like the sea here.
In the evening we had nachos, which Max had been wanting for at least 2 days, super delicious!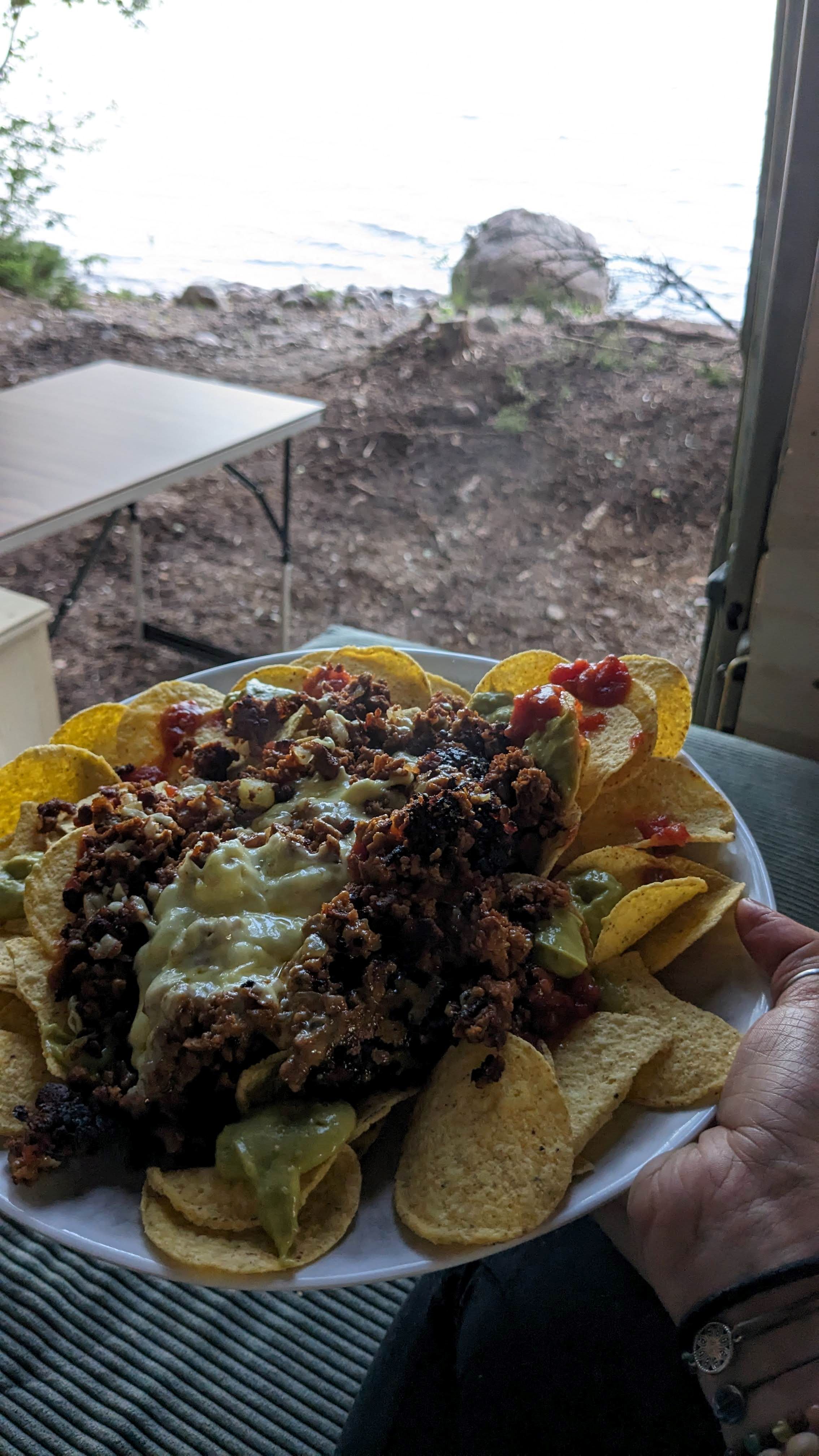 The night was quiet and we slept wonderfully and long.
07/01/2023 – short trip
The next morning I got up, did a round of yoga by the water and then wanted to go swimming. Unfortunately, the water was so cold that my feet hurt quite a bit when I walked in, and I couldn't even go ice bathing. So I did a little meditation by the water, just watching the water, taking in all the sounds, smells, feelings, everything I see and anchoring it deep in my heart.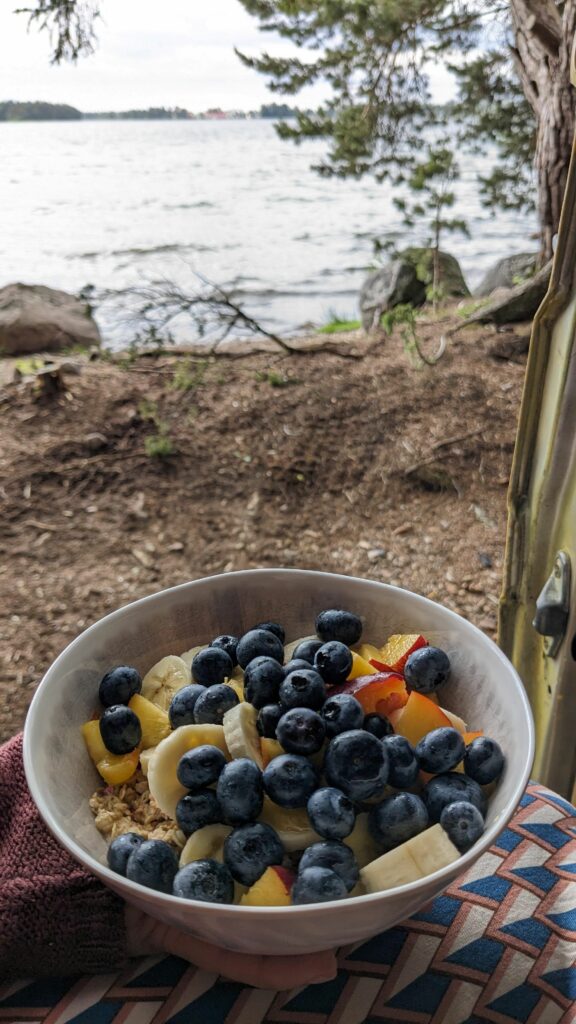 Later we made ourselves some muesli and got the bus ready to drive again. Because of the wind it was unfortunately so cold here that we didn't want to stay longer.
On our way, we stopped in the next bigger town and explored it a bit. But there was not much to see so we just enjoyed the lake and park for a bit.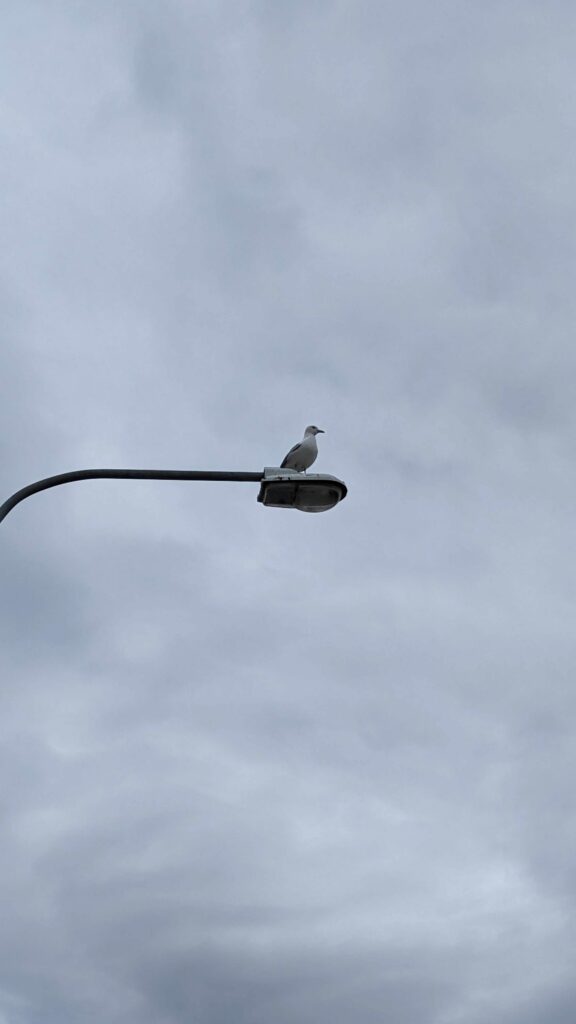 Market visit
On the way to the parking space, which was about 20 minutes away, we discovered a cute little market.
Of course, we stopped and browsed through homemade items, demonstrations of old handcrafts, an old shipyard and used items. A really nice market that was quite authentic. We really enjoyed our time there and took a raspberry juice, warm socks and wonderful memories with us.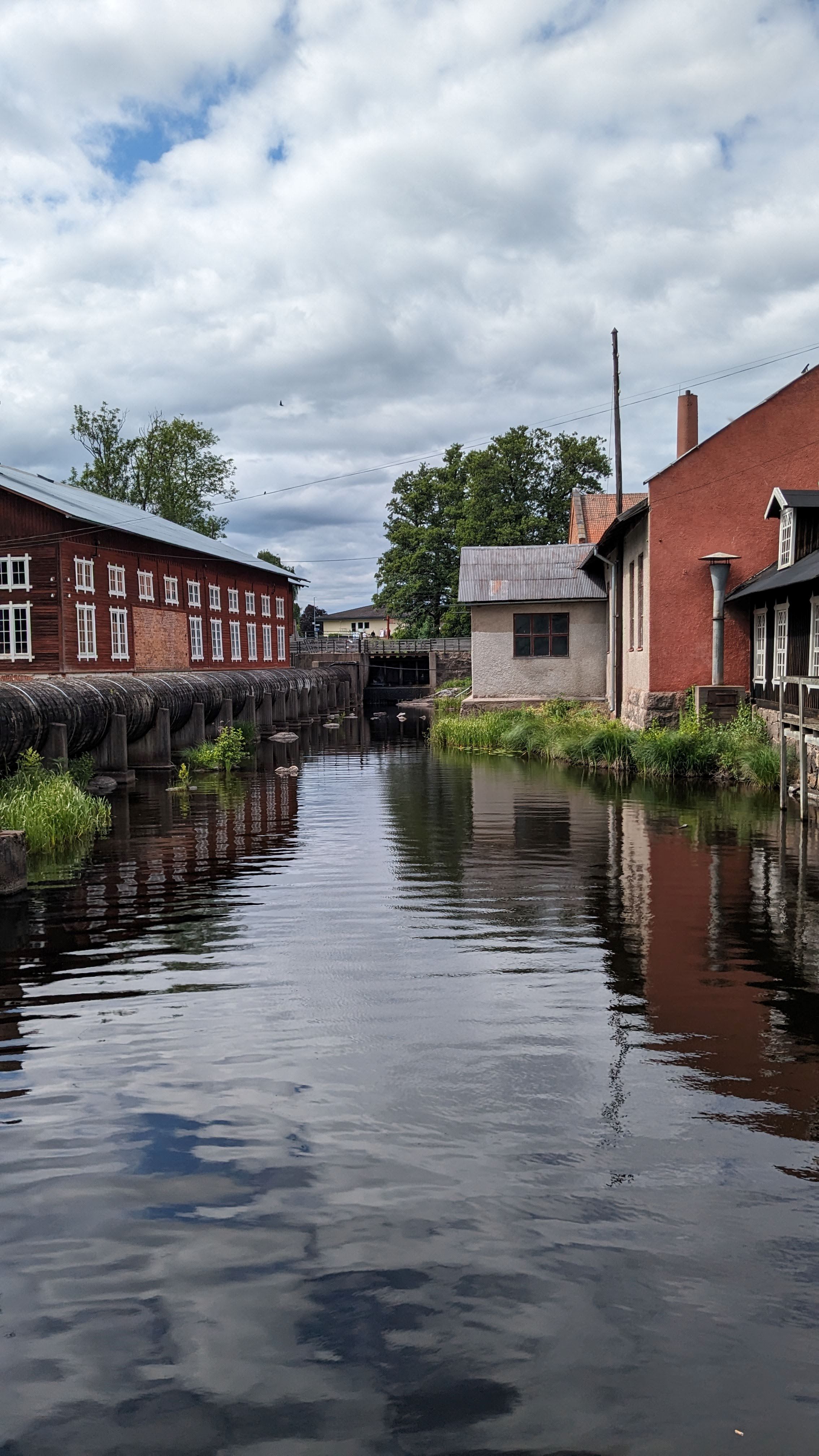 Arrived
A good 10 minutes later we were at the parking space, and actually alone! The first parking space that we found right away without having to drive to 2-3 others. A dream!
We made ourselves comfortable and relaxed a bit.
Later a Swedish family came in a white giant. But luckily that didn't bother us much.
The evening wasn't quite so relaxed. Max and I argued and then unfortunately fell asleep like that. But sometimes that is the case and it should be like that. Even on vacation, not everything can always be peace, joy, pancakes, and especially in such a small space, you argue even faster or differently than usual. The alternative options are also different 😉.
07/02/2023 – Reconciliation and relaxation
The next morning, I laid relaxed in bed until I heard a crash outside. When I looked, thinking it was our awning because of the wind and rain, there was a huge tree. It just fell over – and it didn't storm that hard! At least our awning, which wasn't even attached to the ground, was still standing! The husband of the Swedish family later said that the beaver had nibbled on the trunk and that's why it fell over.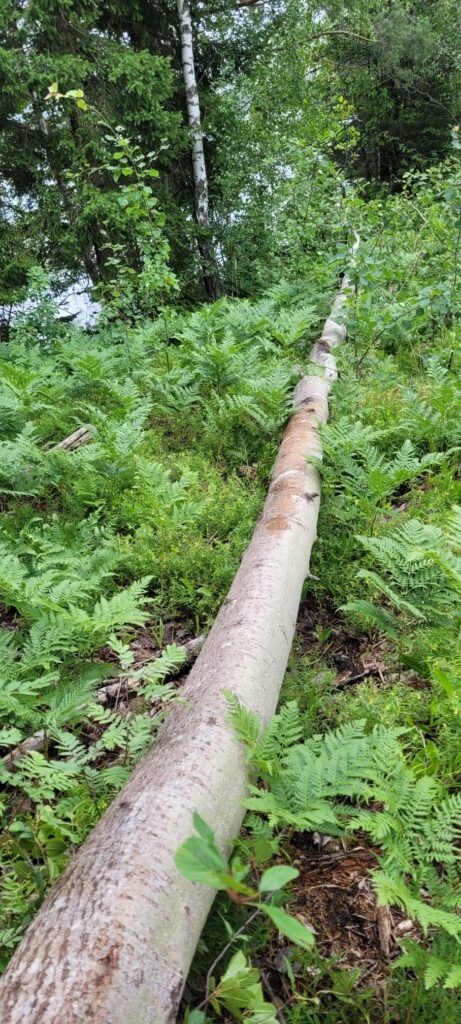 Later in the morning we pulled ourselves together and made pancakes for breakfast. The recipe is available from Jessy & Markus. They were great! I think pancakes just taste better on vacation 😊.
Walk with fruits from Sweden's nature
Later we went for a walk through the forest. We found wild blueberries and even 3 strawberries.
Unfortunately, the wild raspberries are just after flowering, which is why we weren't lucky here. But there were tons of wild raspberries! And blueberries grow everywhere here anyway.
On the way back we met a man with a dog, the dog just looked exactly like Koda, just a bit bigger 😊.
We were able to talk on the walk really well about yesterday and resolve the dispute well. Because sometimes things take their time to work in everyone. And that was just as right 😊.
Improvements to the bus
After the walk, Max did some more work on the bus. He installed the level indicator for our new water tank under the bus. Because we can no longer look into it, so it makes a lot of sense to be able to look at the display to see whether we still have enough water.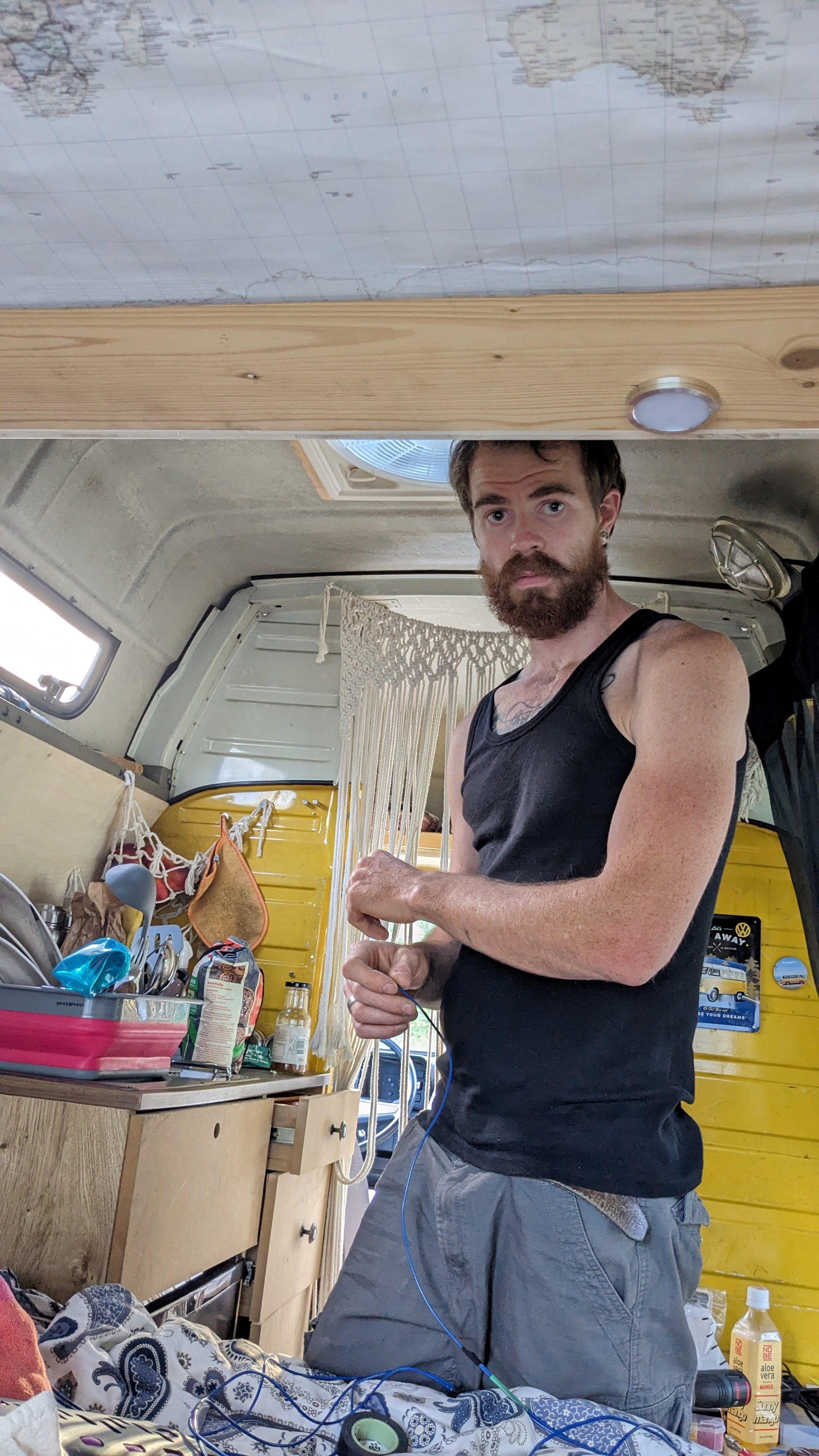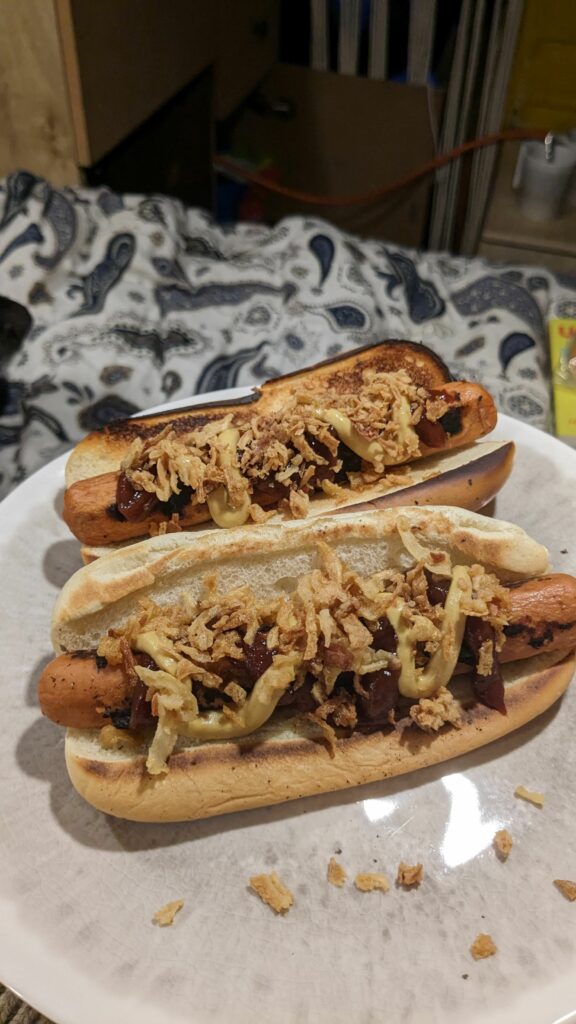 He also installed a light switch above the bed for our new lamps. I'm so thankful to have a man by my side who can just do all the things himself. That really makes it a lot easier, and so we now have really great lighting in the bus.
In order to find out why the battery always runs out so quickly, i.e. practically overnight, we decided to do nothing but leave the fridge running. The battery held up well. So we will probably charge our mobile phones etc. on external batteries at night, which is not an issue. Anyway, I'm glad we were able to solve the problem.
We then made hot dogs for dinner, fitting for Sweden. They were really, really tasty and gave the day a wonderful end.
And with that I wish you a wonderful start to the day, noon or evening,
All the best,
Ronja
---
---