Sweden, arrival and first days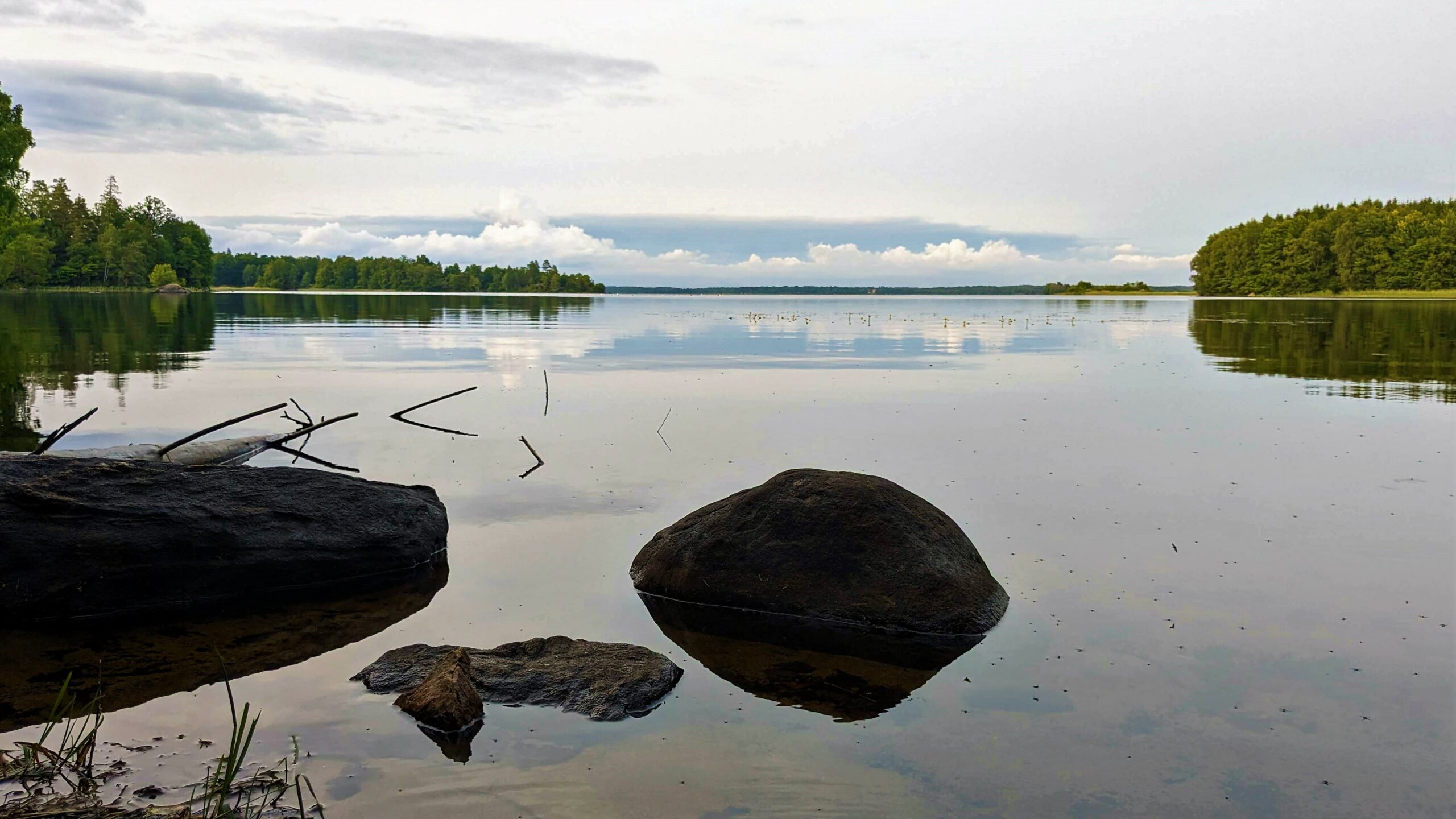 Hello and welcome to a new travel diary on our trip to Sweden. I'll take you with me on our arrival and on our first days in Sweden.
Getting there
We left later than planned and therefore learned a lot for ourselves and took it with us. Like, for example, that we don't want to do any more work on the bus before a trip.
But on 06/24/23 we actually started driving in the evening. Due to the late departure, a long journey was no longer possible.
For this, Max gave on the 26.06 everything, and we drove through till Sweden.
We took the ferry from Fehmarn to Rodbyhaven. 45 minutes later, we were in Denmark.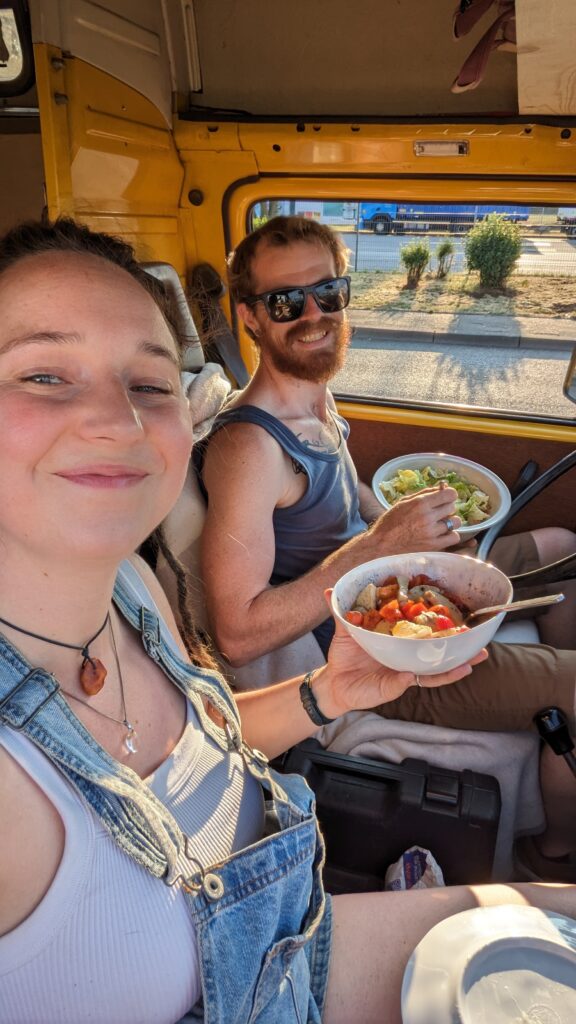 Denmark welcomed us with the most beautiful sunset, and we kept driving the good 2 1/2 hours further to Sweden. Between Denmark and Sweden, we crossed the Oresundbronn Bridge.
In summary, it can be said that a trip to Sweden is not that cheap. If you are interested in a more detailed breakdown of what we paid, please write it in the comments 😊.
Arrived in Sweden
We arrived late in the evening, at night in Malmö. Here we spent the night in a parking lot opposite a gas station because we couldn't find anything suitable that night.
The next morning, June 26th, we set out to buy a few more things.
Small side fact, we also have to get along with our new dry separating toilet first. We already had some learnings 😂 and one of them is that we need significantly more bedding than we packed.
Shopping was really an adventure. Because, of course, we don't understand anything in Swedish. But we found everything we were looking for and needed. In addition, there are no more excuses in times of Google Translate 😉. Luckily, most Swedes can also speak great English!
Parking space search
06/26/2023 – New acquaintances
Finding a parking space turned out to be more difficult than I thought it would be. It wasn't and isn't that easy to find your dream of having your "own" place by the lake.
And so we searched on 26.6. Quite a while for a suitable place.
We have experienced some adventures, maybe looking for a parking space is the biggest adventure so far. For example, we drove on a military training ground road (yes, Maps took us there!) and it was super bumpy. At the end of the street, we found out why, because there were normally tanks on the way 😂.
In the end, we found a super nice pitch by the lake for the night. Here we met such a nice couple and had a good time with them both.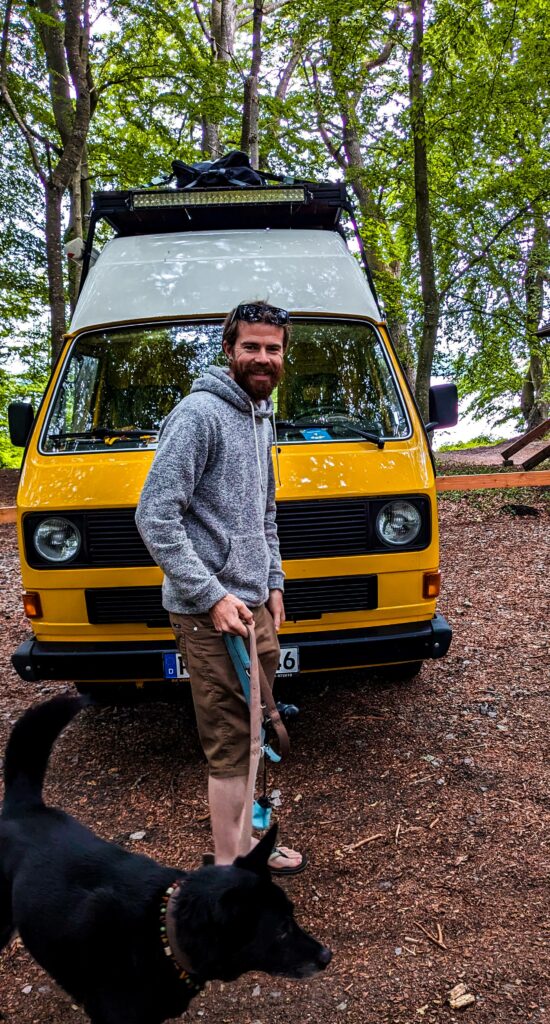 It also rained a bit, so we pulled out our awning and then cooked outside. In the evening, we fell into bed after getting everything ready for sleep on the bus.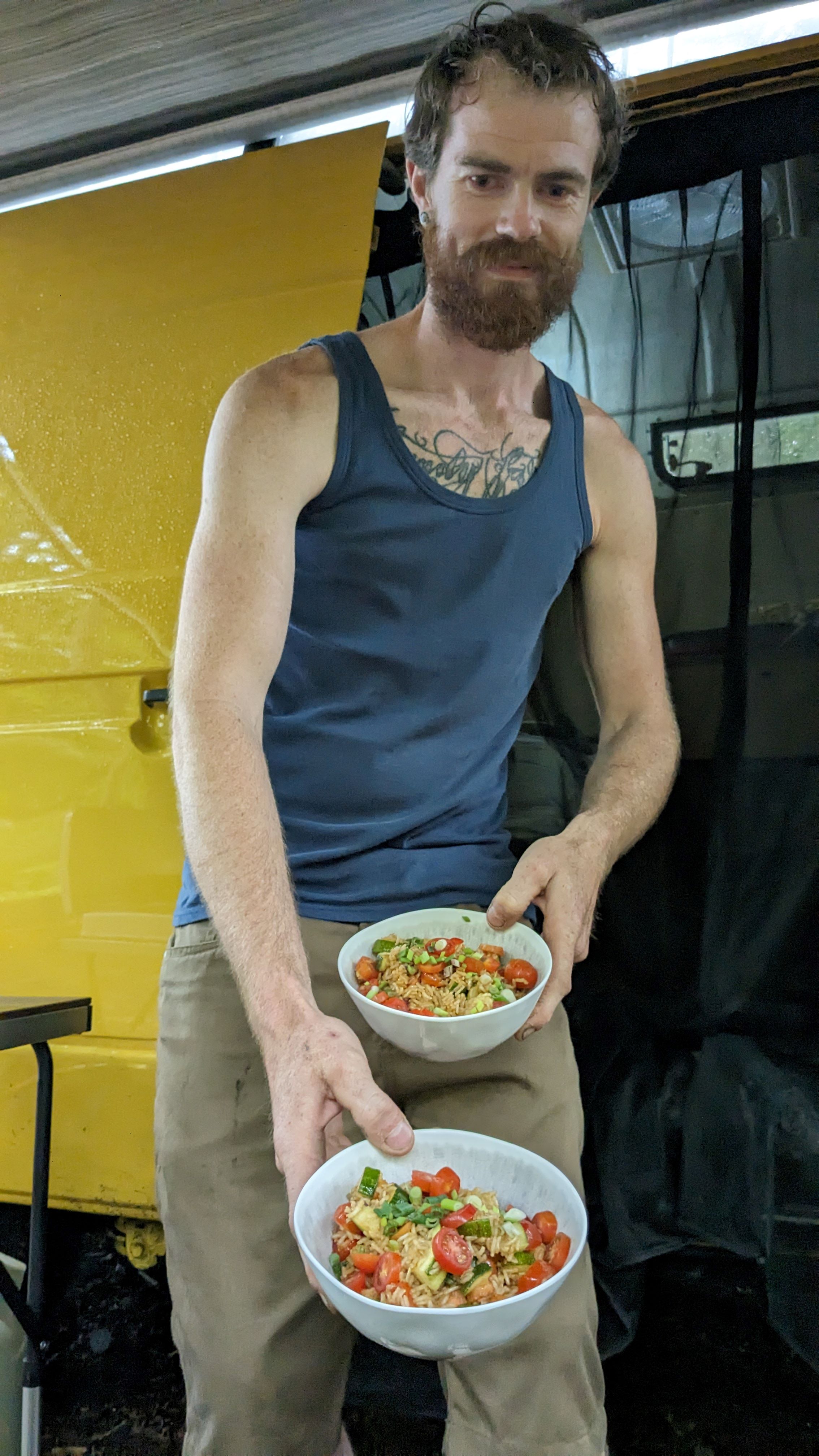 06/27/2023 – Mosquitoes and horseflies in paradise
After a relaxed breakfast and coffee by the lake with the two new friends, we packed up and started looking for a new place, also because the place was suddenly full of several other vans and a white giant (mobile home). .
This time already with new ideas on how to find a place. Because we were able to take good tips from both of them, as she spent a large part of her life in Sweden. Among other things, they said that we should just look at Google Maps and just drive and search. And that's exactly what we did.
Unfortunately, we weren't able to use any of the places we found on maps, so we came back to Park 4 Night after all. An app where you can sometimes find great pitches.
Found it and mosquito alarm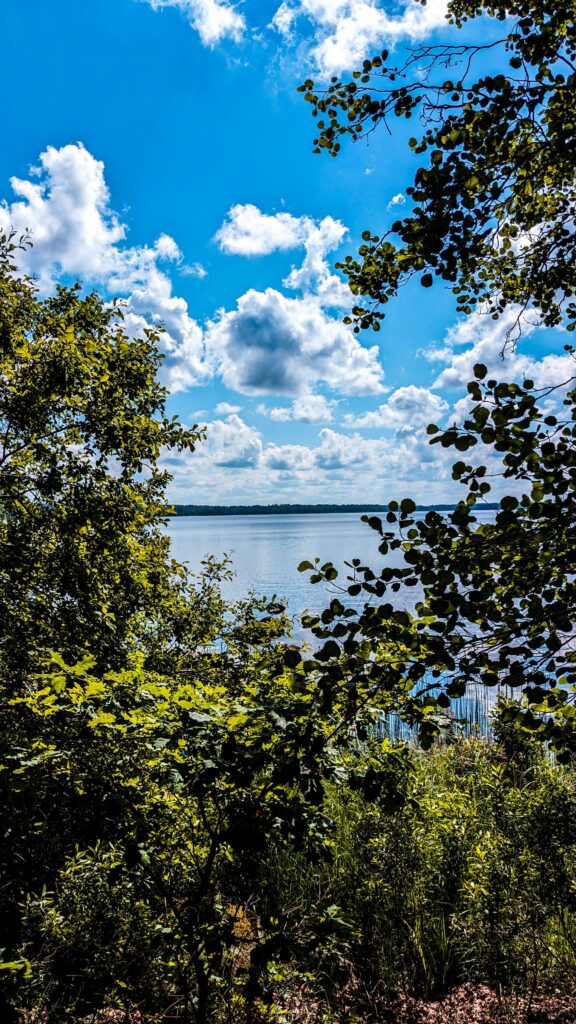 Here we found the pitch for the night. Super nice by the lake, just another campervan with two lovely girls who really loved Koda even though he barked at them every time 😂.
The night was great because we weren't outside much anymore. However, there were already a lot of mosquitoes here. Luckily we have a fly net and enough spray stuff with us, so it's not too much of a problem (she said with at least 15 stitches all over her body 😂). The Heat it then does the rest and relieves me of the itching.
The night was good and we all 3 slept well.
06/28/2023 – On the way to new shores
The next day, there were a lot of horseflies. For a while it really wasn't an issue, but they annoyed us more and more.
With the standup paddleboard on the lake
We still went out on the lake for a round with the SUP and that felt incredibly good! 3 of us on the lake. There is little that fills my heart more and gives me more peace.
But even out there, the brakes didn't leave us alone and Koda unmasked every stone as a possible crocodile and of course had to protect us. That made the whole thing less relaxing than we thought, and we made the decision to move again.
So we packed up and set off again.
Departure and adventure driving in Sweden
On the way, we refilled water, which is free at most gas stations. The only thing we didn't have was a hose, so we had to buy it quickly 😉.
We also went to Max Burger for something to eat because I really wanted to try the vegan burgers. However, they weren't that sensational, just a normal fast food restaurant. So the enthusiasm didn't last long.
On the search for a parking space, we again took the most adventurous paths. Max handled our Kala (T3 Postbus) like an 4 WD, thanks to his driving skills, everything went well.
We finally arrived for the first time at a really private parking space just for us. With the lake within sight and reachable in a minute. Wonderful!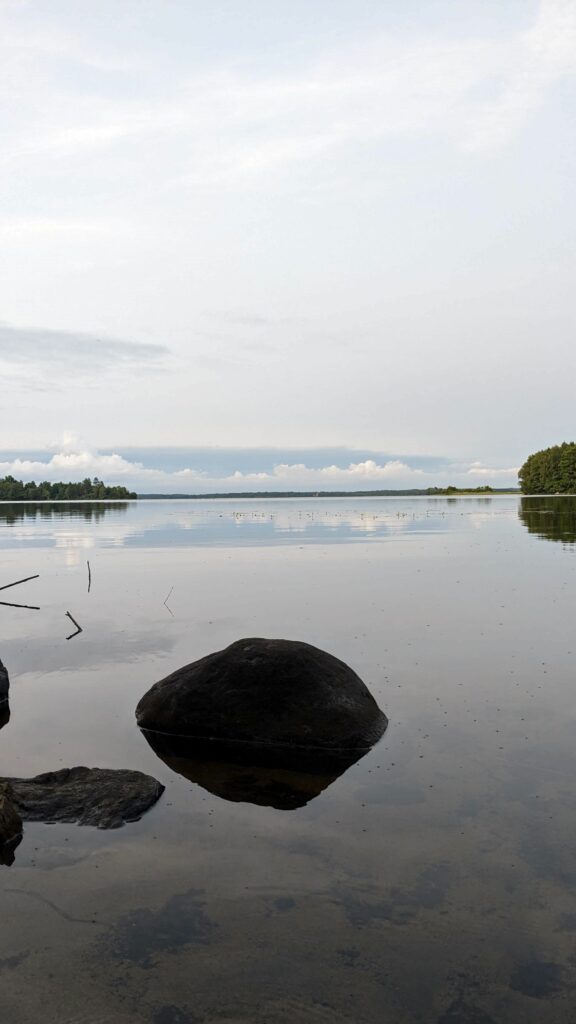 In the evening there wasn't much left apart from us and getting the bus ready for bed and going to sleep.
06/29/2023 – One day break
Today we both slept in. By the way, I always wake up around 4 a.m. here. It's just getting light there. I'll probably get up tomorrow, because I think the sunrise here at the lake is wonderful (if there is one, since it's been cloudy since noon today and is supposed to stay that way).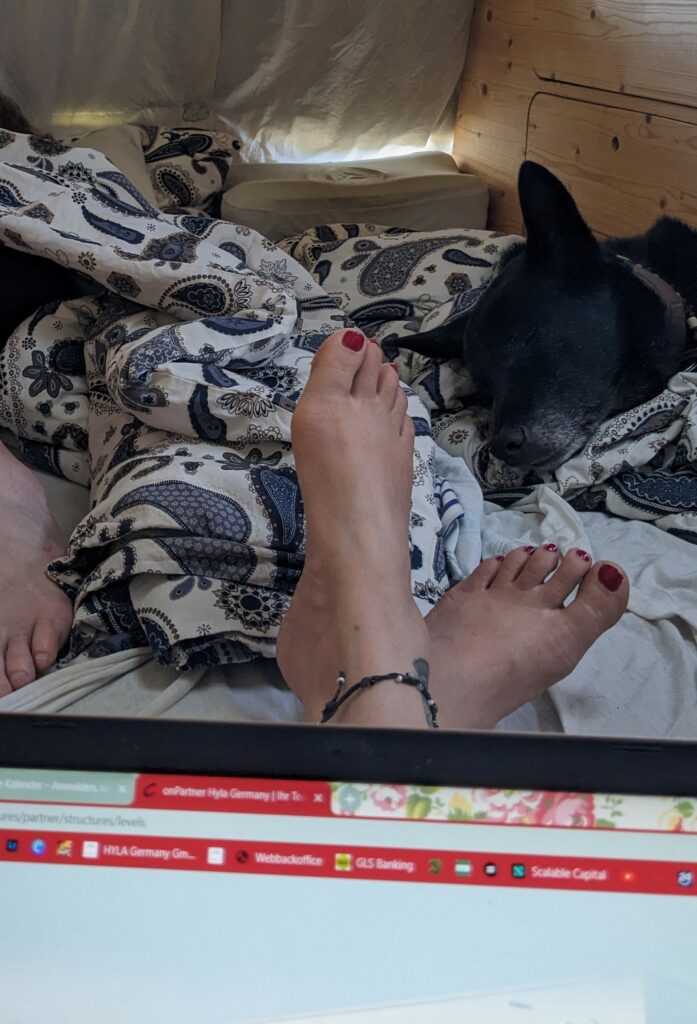 I then cuddled up in bed with Koda and Max for quite a while and then went down to the lake on my own to work a little with my side business – Hyla. If there's one thing I love, it's that. Traveling and working and making money.
The rest of the day we relaxed a lot and took a break.
I slept, Max called his family and I worked a little more and finished writing the blog post here 😊.
Since it rains again and again and is very cloudy anyway, today was just right.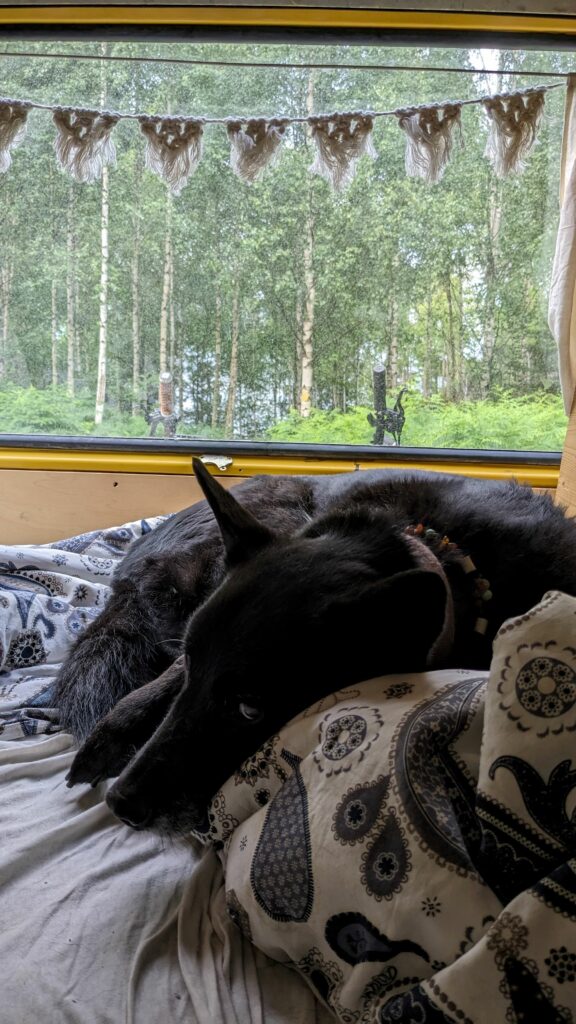 The only downside to this wonderful place – which is really almost perfect! – there are a lot of ticks here. We scrutinize each other before we get on the bus and Koda is brushed more regularly than ever. I've never seen or had so many ticks anywhere, really a phenomenon. Sweden seems to be the superlative when it comes to unnecessary insects that want to suck our blood 😂.
Tomorrow we plan to drive a little further north, since the weather here is generally not supposed to be that great. Maybe we'll be lucky and catch some sun on the way.
That was our journey to Sweden and our first days.
More will follow soon 😊.
Have a nice evening, day or morning.
Lots of love,
Ronja
---
---