Australia, 2. Week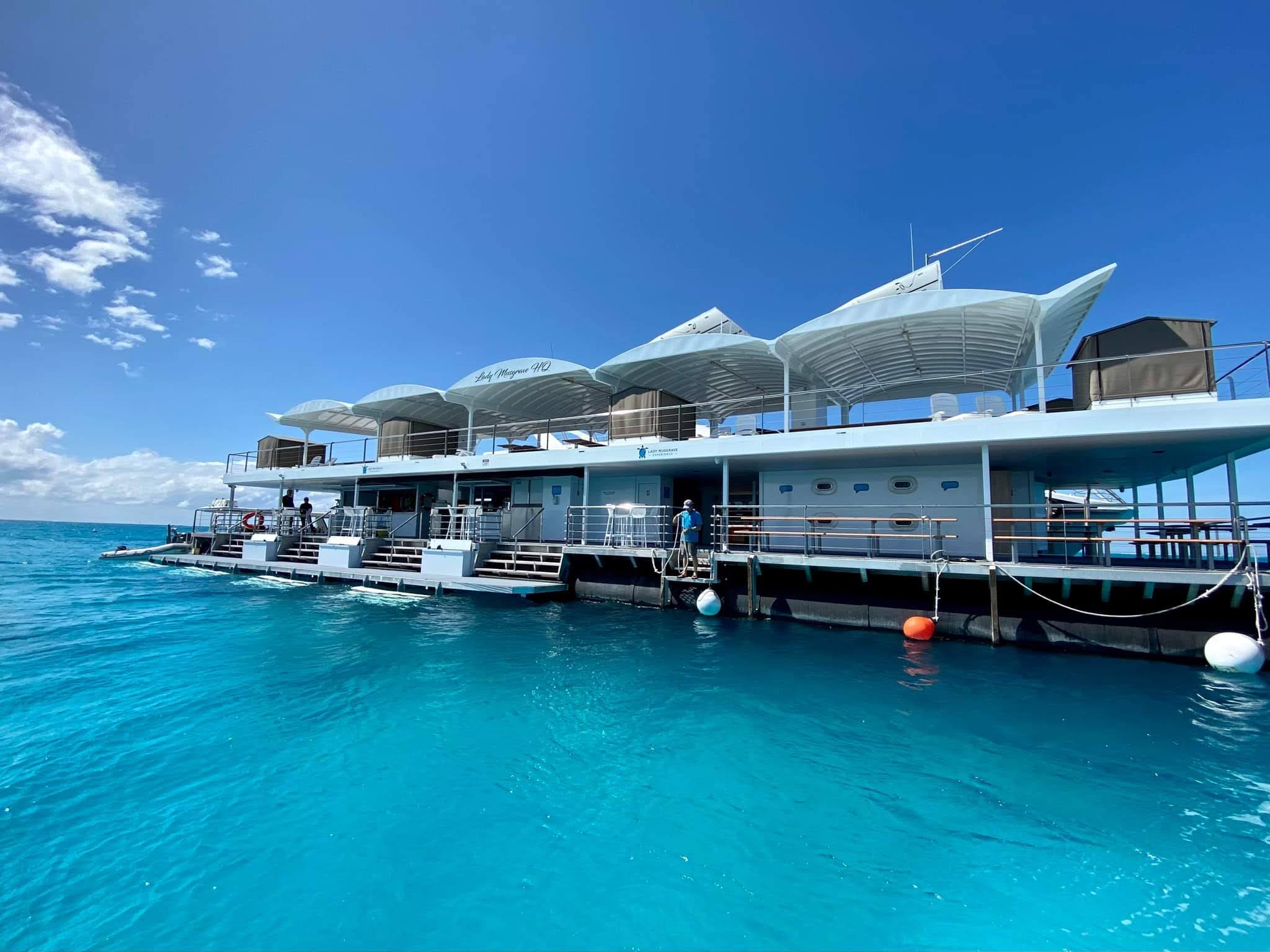 In this post I take you to our 2nd week in Australia. From Caboolture to Hervey Bay we drove to Bundaberg and saw and experienced a lot along the way, among other things I can now check off one item on my bucket list, but I have two new ones 😉. This blog post is a bit longer, simply because we experienced so much in the week that cannot be put into words. I hope I can still take you a little with me.
Monday, 08/22/2022
On Monday, we made a quiet day. Since we wanted to leave on Tuesday towards Hervey Bay, we wanted to prepare for the trip and relax a little.
I had time to read a bit.
We also drove to the store to run some errands and buy some snacks for the trip 😉.
On the way, we also took the turtles from Karen's (Max's grandma) garden to the small lake in Caboolture. The same turtles already live there, and they can feel really comfortable there.
Tuesday, 08/23/2022
Trip
On Tuesday morning, we packed up and got ready.
At around 11 a.m. we set off towards Hervey Bay.
In between we stopped in Gimpy and visited family and friends like Max's family. That was a really nice stopover.
On the way, we looked for something to eat and found Mc Donalds. Funnily enough, we haven't had any luck with fast food and vegan alternatives in Australia. That's lucky for us and sad at the same time, because sometimes you would wish for that. Fortunately, fries are always an option. Otherwise, we have found something everywhere so far and everyone is super nice in the service.
Arrive with a view
At 4 p.m. we were in Hervey Bay. When we got there, Karen and Krystal (Max's sister) really made fun of us. We booked a penthouse with a sea view. They said it wasn't all that nice and the view wasn't there either.
When we arrived at the third floor, we were taught better.
The most beautiful view I have ever had (after our house on the beach)! It almost looked like we were on the water. Only when we went out onto the balcony did we see the beach below us.
In the evening, we enjoyed the view with a glass of champagne. We went out to eat later.
Because we had a whirlpool upstairs in our bathroom, we had to try it out, of course.
A very fulfilling day came to an end, and we fell asleep to the sound of the sea.
Wednesday, 08/24/2022
Our morning
Wednesday, we booked a whale watching tour. Watch whales from the boat. We have chosen a provider where all proceeds go to research and saving the sea.
But first we got up at 5 to see the sunrise. Gorgeous and stunning! Especially when four pelicans fly past. I can hardly describe the feeling that fills me, but it is full of joy, gratitude and overwhelmed.
Later we went for a little walk in the city before we went to the boat towards the whales.
Whale watching
Arriving at the meeting point, we were first warned that it would be very windy, and the water would be wild. Besides, it's freezing. Since we still had a few minutes, Karen and I went back up to the apartment to get warmer clothes. As it turned out later, it would have been better to get more. Because it was really, really cold and windy!
The boat trip started, and we went out to sea with some other people, about 20 people. It was quite a wild ride and the waves kept breaking on the ship.
After less than 15 minutes, we saw the first two whales. Beautiful to watch, but a bit further away. There was another boat there.
The crew decided after a while that we should keep looking. The tour lasted a total of 3 hours.
At the next spot we could observe the whales for a long time. Both times they were young whales, 1-3 years old and therefore not yet fully grown.
Overall, however, the whales were rather calm and relaxed that day. They tended to lounge around in the water and only showed up briefly on the surface. Still, each viewing was a joy and excitement. And every single time was enjoyed! Sometimes they even swam under the boat. That was really an experience!
The boat trip was also an experience. Due to the weather, the boat swayed a lot in between, and we had to spread ourselves out equally on both sides. Some on the boat also got seasick. Luckily, I don't seem to like boating more than I thought?.
The way back was long, almost an hour we drove back along the coast of Fraser Island to escape the strong waves further out, since the weather got even worse in the meantime.
Our evening
Back on land, we rested in the apartment for a while. Then we're off to town again. We watched the sunset from the jetty. Everyone else waited very patiently for me and my photos ❤.
Then we went looking for something for dinner. It was an odyssey, I can tell you that! After three attempts, we finally made it and arrived at the restaurant that was an option at the beginning. Some only served until 5 p.m., others didn't have enough waitresses for more people, and others were completely closed. But, as the saying goes, all good things come in threes? That's how it worked out for us in the end, and we ate delicious Asian food and really enjoyed ourselves.
Thursday, 08/25/2022
Our morning
On Thursday, we got up again around 5:30 a.m. to see the sunrise. That was literally magical! In fact, 2 dolphins even came very close to the beach and stayed in the bay for a long time and romped around.
At around 10 a.m. we set off to drive to Burpengary, more precisely Bargara.
Before that, we went to the Botanical Gardens in Hervey Bay. It was really, really beautiful! The garden was divided into different parts. One part was planted like the Australian rainforest, rather damp and dense. Another part more like the forest. Another part was more of a Japanese garden and there was an orchid house.
After that, we went to the same café as on Wednesday, a really cute café with good vegan options.
Next stop
The drive was then just a little over an hour to Bargara. We arrived there at around 2 p.m. and checked in straight away after we had clarified everything about the tour on Friday.
Then we drove to a lavender farm that we spotted on the way. A really nice place. We took some things with us, and I was able to take a few pictures. Then we went to the shopping center. I still needed a bathing suit and a sun hat, we wanted to get a few other things.
Back at the motel, Karen stayed and rested. We're off again to see where we can eat in the evening. We then found a pub where we could all find something tasty.
The evening was still fun in the motel room, and we went to bed early.
Friday, 08/26/2022
Boat trip
Friday started early. Like the last few days, I got up early to enjoy the sunrise at the sea. It's really worth it every time!
At around 6.30 am, we had to leave in order to arrive at the meeting point in time for our boat trip to Lady Musgrave Island. We were there on the dot at 7 a.m. and were soon able to get on the boat.
The boat ride was wonderful, quieter than on Wednesday. We were a lot at the top of the sundeck. It was windy there, but we had the best view! In between, we were provided with drinks and delicious fruit.
As we booked an overnight stay on the pontoon (floating deck) we were treated as VIP guests with 1st class seats etc. That used to be an experience ?. I think from time to time – if the price allows it – you can treat yourself to it! The difference is really huge, especially in terms of comfort! We took that with us, especially for our flights. If possible, we want to book business class here – especially on such long flights as to Australia.
Arrived in paradise
Arrived at the pontoon, we first made a tour to Lady Musgrave Island. There we were told that the island consists only of coral. A special bird species has also settled there. These are solely responsible for the entire ecosystem of the island. Through their legacies, the Tree of Life settled on the island. This continues to grow, even if a tree falls over, new trees grow out of it. In addition, the tree on the ground flowers once a year. The flowers are very sticky and if the birds get too close they will stick to them and die. As terrifying as the idea is, it is important to the island's ecosystem. This is the only way the island lives on, and the birds still live there in the largest population in the world.
In addition, we were guided a little along the beach and here we were told more about the turtles. Here are some of the fascinating facts (I found).
The temperature of the nest determines the sex of the turtle – in warm weather the turtles tend to be females, in cold weather more males > due to the warming of the seas as a result of the climate crisis, more and more turtles are female and fewer males, which will cause difficulties in the population in the future can lead
Turtles always come back to the exact beach they were born on > meaning no matter how dangerous the path to the water is, the baby turtles have to walk it themselves to find their way back to the beach. That means you're not doing them any good by carrying them into the water to protect them. Nature has its own unfathomable, sometimes terrible, but at the same time beautiful solutions and ways.
Turtles cry not because they're sad, but to get the salt out of their system.
Then we went back to the pontoon with the glass bottom boat. Here we had a delicious lunch, and then we could snorkel as we liked.
Snorkeling
It was my first time snorkeling properly, and I loved it.
There were the most beautiful things to see underwater! We saw a wide variety of corals, colorful fish and even turtles. It was the most wonderful experience I have ever had, and I am infinitely grateful for it!
Nevertheless, the water was pretty cold and my whole body was shaking – but that could also have been the excitement 😉.
Besides the turtles, we also saw a wobbegong. He wasn't that big, and they aren't dangerous either, but Krystal (Max's sister) and I were still very scared when he scared away the turtle that swam past his lair.
We're out again after the first tour. Every time we swam out, I was able to discover new corals and fish. A whole new world down there every time.
What I found really fascinating is that 95% of our earth is underwater, and we haven't discovered so much of it yet. I find the idea wonderful and frightening at the same time.
Our evening
After the last tour, I took a shower and washed my hair.
We had a nice chat with the other 4 people who were also sleeping on the pontoon. We also enjoyed the wonderful sunset in the middle of the sea.
Later there was a delicious dinner, and we enjoyed the view, the sounds and the feeling a little longer.
None of us (except Max) slept very much. It was super noisy up on the deck due to the wind. Also, it rained a little every now and then.
Saturday, 08/27/2022
Woke up in paradise
I still got up at about 5:00 a.m. to see the sunrise. It was really a very nice experience! Especially because otherwise only Max was awake, and later another couple.
At 7:30 a.m. we had breakfast and not much later we jumped back into the sea for the first time. That morning, the water wasn't as cold as expected 😊. But the wind was all the stronger and with it the waves.
There is a small bay in the reef at that part of the reef called the aquarium. Once the tide comes out, the part is only connected to the rest of the reef and the open sea by a small channel. As a result, many young fish are raised here and some fish remain there and wait for the tide. The part is therefore particularly suitable for swimming in. Since we saw at least 4 turtles here on Friday, we swam in there again. Since the tide was still there, we were even able to swim over the reef. However, the waves were pretty strong and kept pushing us in.
Troubles in paradise
I had my cell phone with me and filmed a few until suddenly water got into my cell phone. To this day, I don't know exactly how, but my cell phone suddenly went off, and I was very worried. So I wanted to swim out again to get the phone dry. It turned out to be more difficult than I thought, and I really struggled to get out. The waves were pushing me in the other direction, and I didn't want to flip my fins too much to avoid hitting the coral below me.
I finally made it, but was very exhausted and worried about my phone. Max took great care of us and fortunately later it went back to normal.
We then rested a bit in the sun on the deck. That felt wonderful! Mainly because nobody else was there yet, from the day visitors. Unfortunately, when I pulled my hat on my head, something twisted or pulled on my back.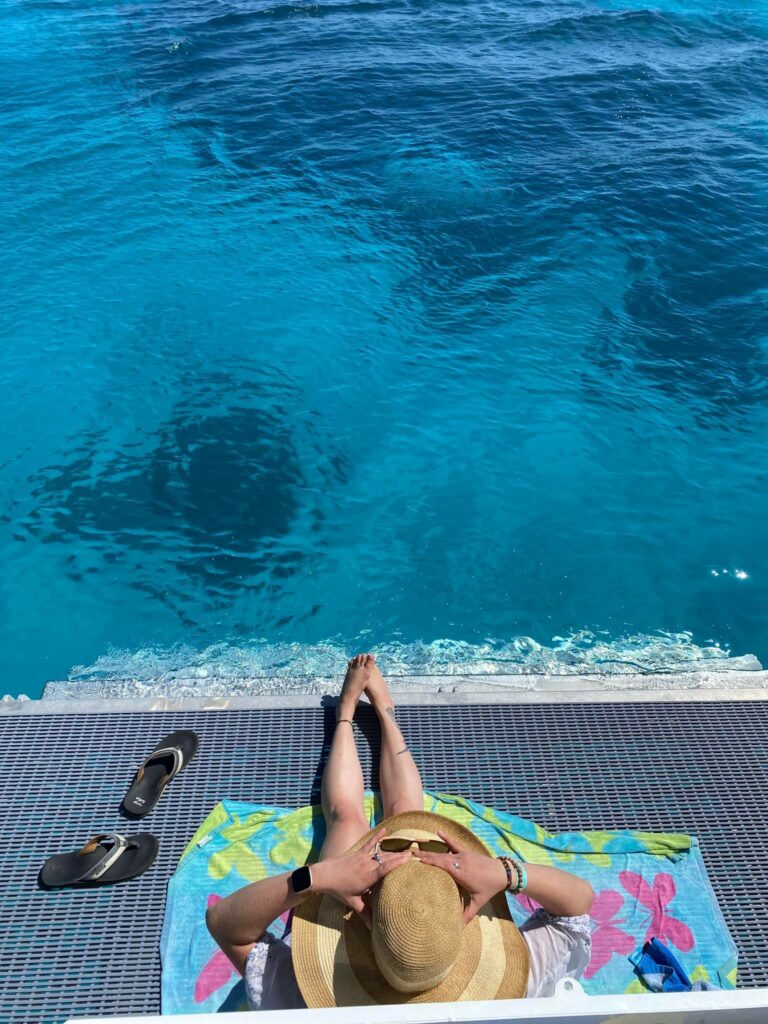 Farewell to paradise
Then it was lunch again, and we were able to rest a little.
Later we are in the water again. Luckily, it was quieter there, and we were able to do the entire "tour" again along the reef and into the aquarium. Finally, we saw baby squid and a turtle. A beautiful farewell!
Then it was back on the boat and back on the boat. The crossing was quite windy and wild. Nevertheless, we were all able to sleep a little in the boat after being provided with delicious snacks.
Back on land, we said goodbye to the fantastic crew that accompanied us for the 2 days. We were looked after wonderfully and there was always a good mood. That was really a great experience!
Then we rented a room again in the motel where we had been Thursday to Friday. Everything else was actually fully booked. Arrived at the motel, we ordered food and soon went to sleep.
Sunday, 08/28/2022
On Sunday, we slept a little longer. My rhythm is now waking up at around 5 a.m. and so I always wake up around 5 on my own. But then I just fell asleep again.
Then we got ready, checked out and drove to the Sunday market at Shalom College. It was a really great market, we bought fruit and avocados and I found a dress.
After that, we made our way home. We took a short lunch break and were later in Tiro. There we were in a wonderful shop, from which I would have liked to take everything with me. But since our luggage is limited to 25 kg per person, unfortunately that didn't happen.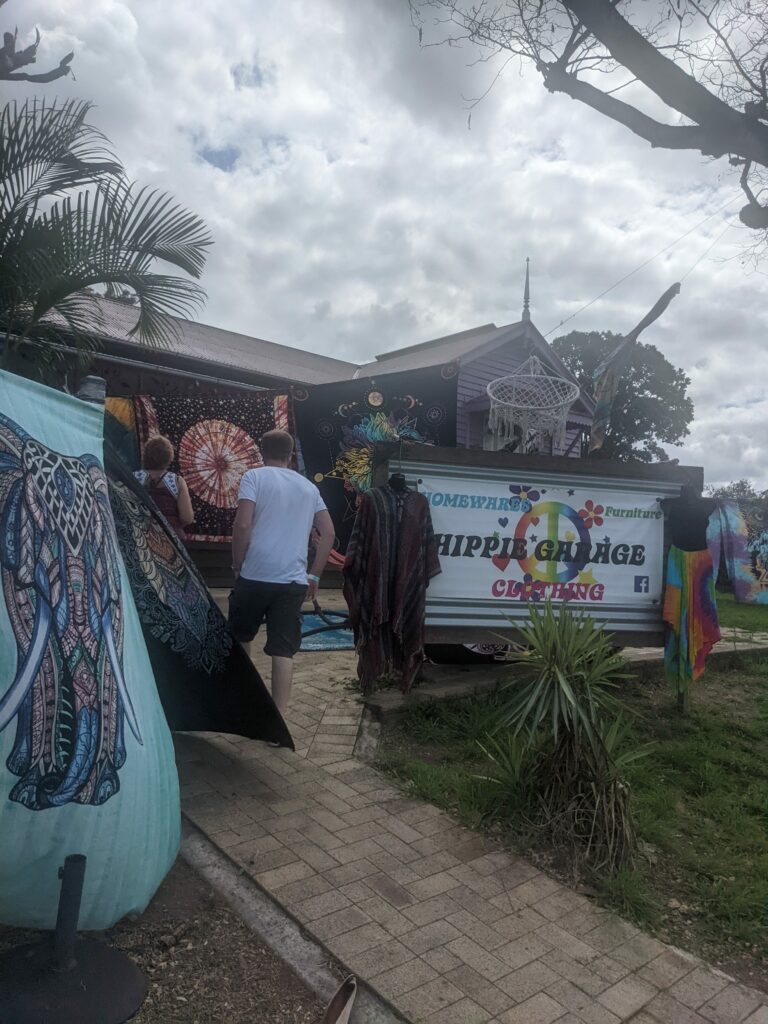 Max and I then drove to Max's friends / family, with whom we were already on the way there. We spent a nice and fun afternoon there. Here I was able to observe something fascinating. Kookaburra – a very shy bird that laughs a bit like a monkey > like to google it – came very close and got food. I was even told that they sometimes eat out of your hand, which got me excited.
Weekly summary
As you can see, we had a pretty exciting week. Many adventures, impressions and experiences. That can now really arrive in me, and for that I need a few days of rest. So I won't be doing much for the next few days.
I hope I was able to take you with me on our journey in our journey, and maybe even make you want to travel a bit.
All the best,
Ronja
---
---