Travel journal 16.06 till 19.06.2022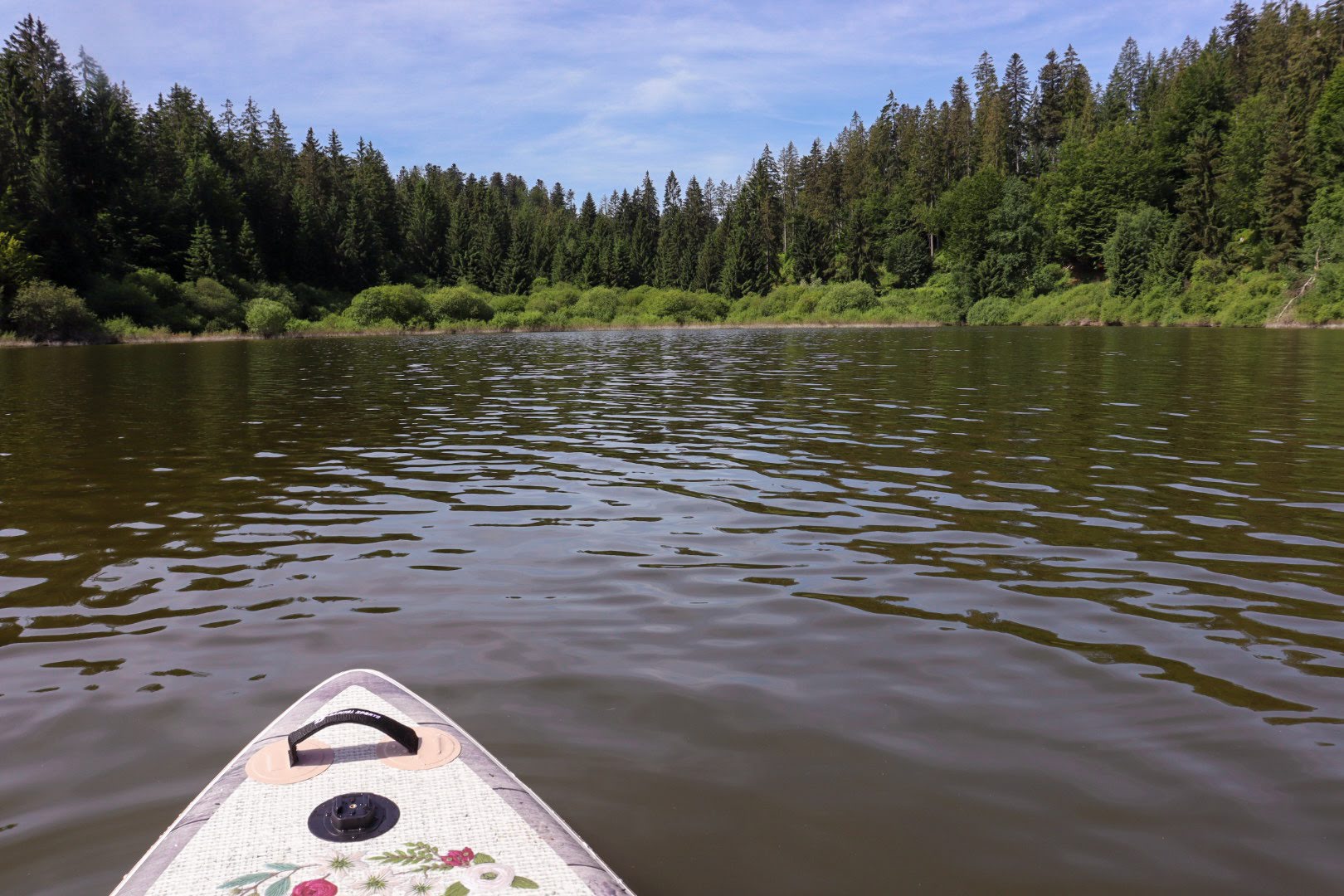 What wanted to be a travel diary and then became a test of doing nothing. Here follows a completely different travel diary, more mindful, fewer experiences and more insights.
Departure on 16.06.2022
Bumpy start
Our day of departure was different than usual. Normally I look forward to the trip and can't wait to get going. I didn't feel like it this time. On the one hand, I really wanted to go and try out our SUP (stand up paddleboard). On the other hand, I just wanted to stay home, in my safe cave, and crawl away. I put it down to my cycle.
But since I have the greatest man in the world, we got started and driving anyway. He built me up, did most of the packing and cuddled with me a lot. That really always helps 😉.
We then drove to the "Schwarzenbachtalsperre". We got Subway on the way, otherwise it would have been too late to cook dinner.
Change of plans
When we got there, we immediately noticed that we had no internet. We accepted that. Somehow we didn't really feel comfortable there anyway. The way down to the lake was difficult, the parking lot small, hardly any space for us to get out relaxed.
We still wanted to stay for the night and then at least try the SUP the next morning. I had noticed anyway that I had left my bathroom stuff at home, so we had to drive back to pick it up anyway. Because a weekend at the lake, with over 30C announced, is not good without sunscreen and mosquito spray. And so we planned to go home the next morning and then to the Nagoldtalsperre. With this one I know that it is easier to get on and into the water.
The first evening without internet was really relaxed. Nevertheless, it was very difficult for both of us to put down our cell phones. Again and again the habit crept in, and you quickly pull out your cell phone to look something up, check social media or emails.
I find it interesting how quickly this happens and how subconscious this process is.
Despite the fact that the place was right on a street, we slept surprisingly well and also felt very safe.
17.06.2022
New experiences
The next morning, we practically fell out of bed and onto the SUP. Koda was not quite so comfortable with the SUP at the beginning. But after two attempts, he sat on it and stayed on it.
So we three did a little tour. That worked great. After that, Max and I rode the SUP on our own for a little longer. A very wonderful experience. Rarely have I felt so comfortable on the water.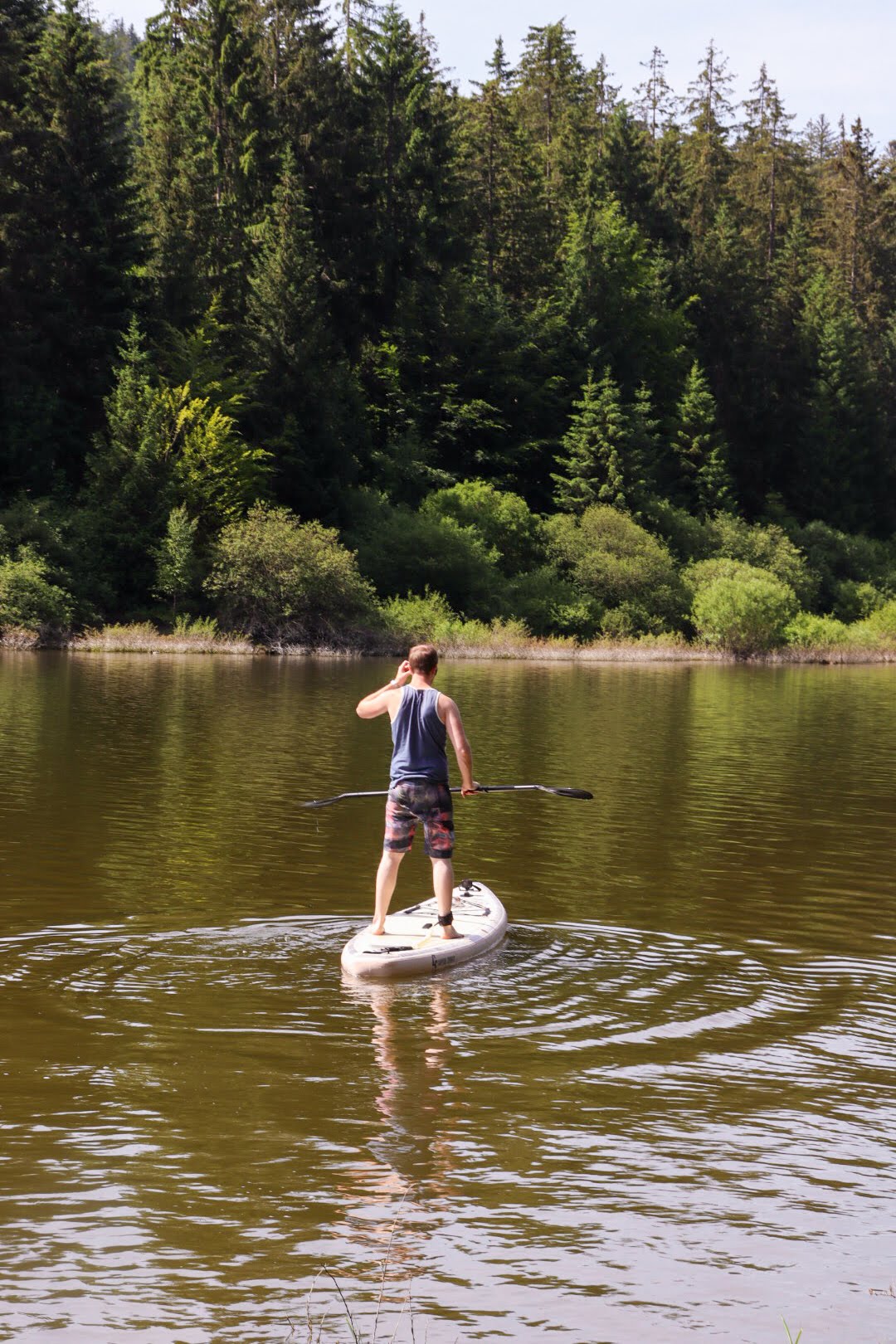 Later we did a longer round together. We drove once to the other bank to take a break there and then back again.
Koda thought it was great on the SUP – he doesn't have to go into the water. And if the tail or the paws hang in a bit, that's no problem either.
So after we had a wonderful morning we got back on the bus, had a quick breakfast and then drove home.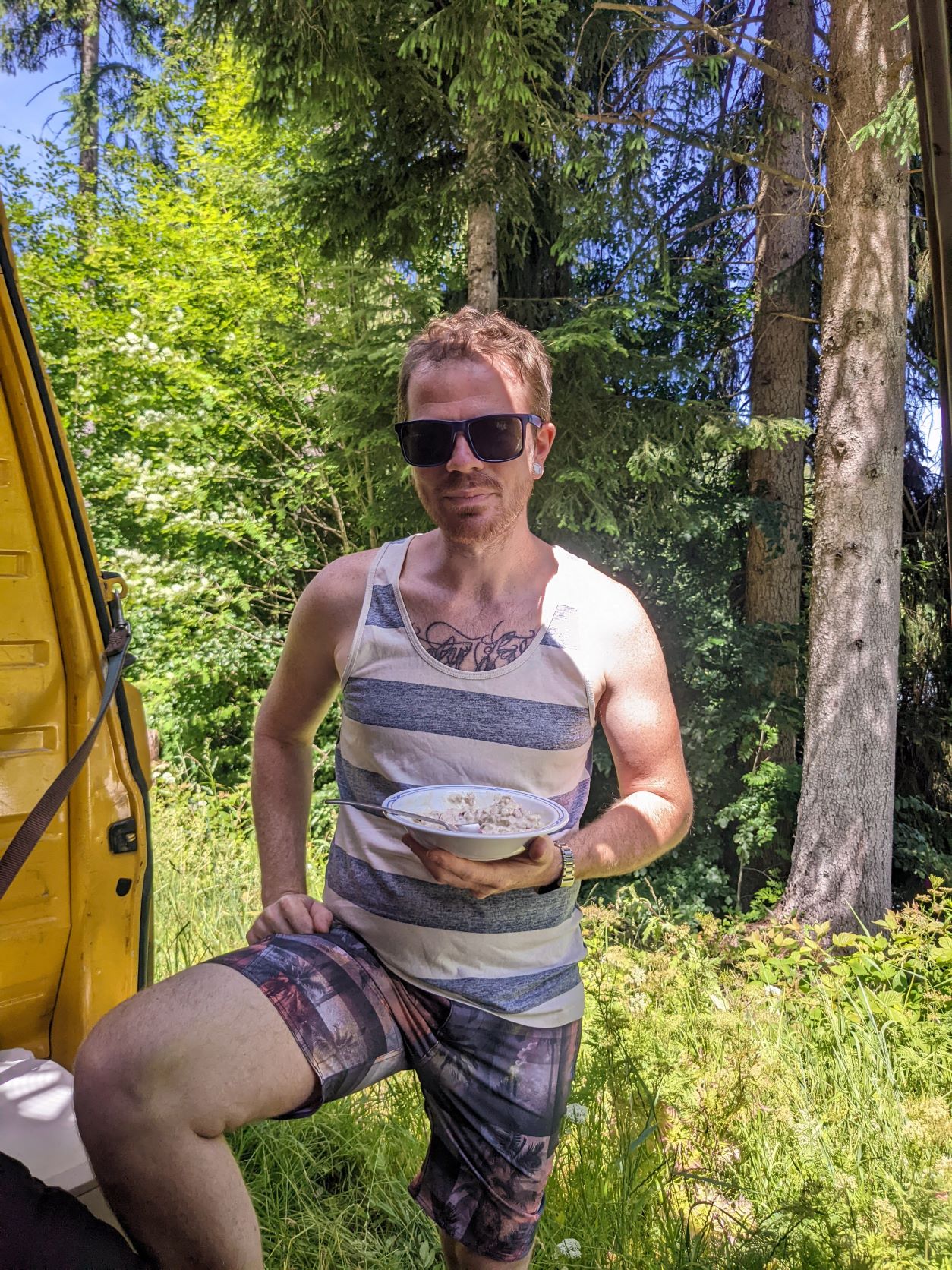 When we got home, we just quickly got our things, went shopping for a bit and then drove off straight away. We had to go shopping again, but thought we'd do that on Saturday because we still had plans anyway.
Arrived
Arrived at the "Nagoldtalsperre", we got exactly the place that I had manifested ourselves – yes, that works even with such banal things.
We went down to the water, found a great spot where we spent the whole afternoon. We were always on the water with the SUP – with and without Koda.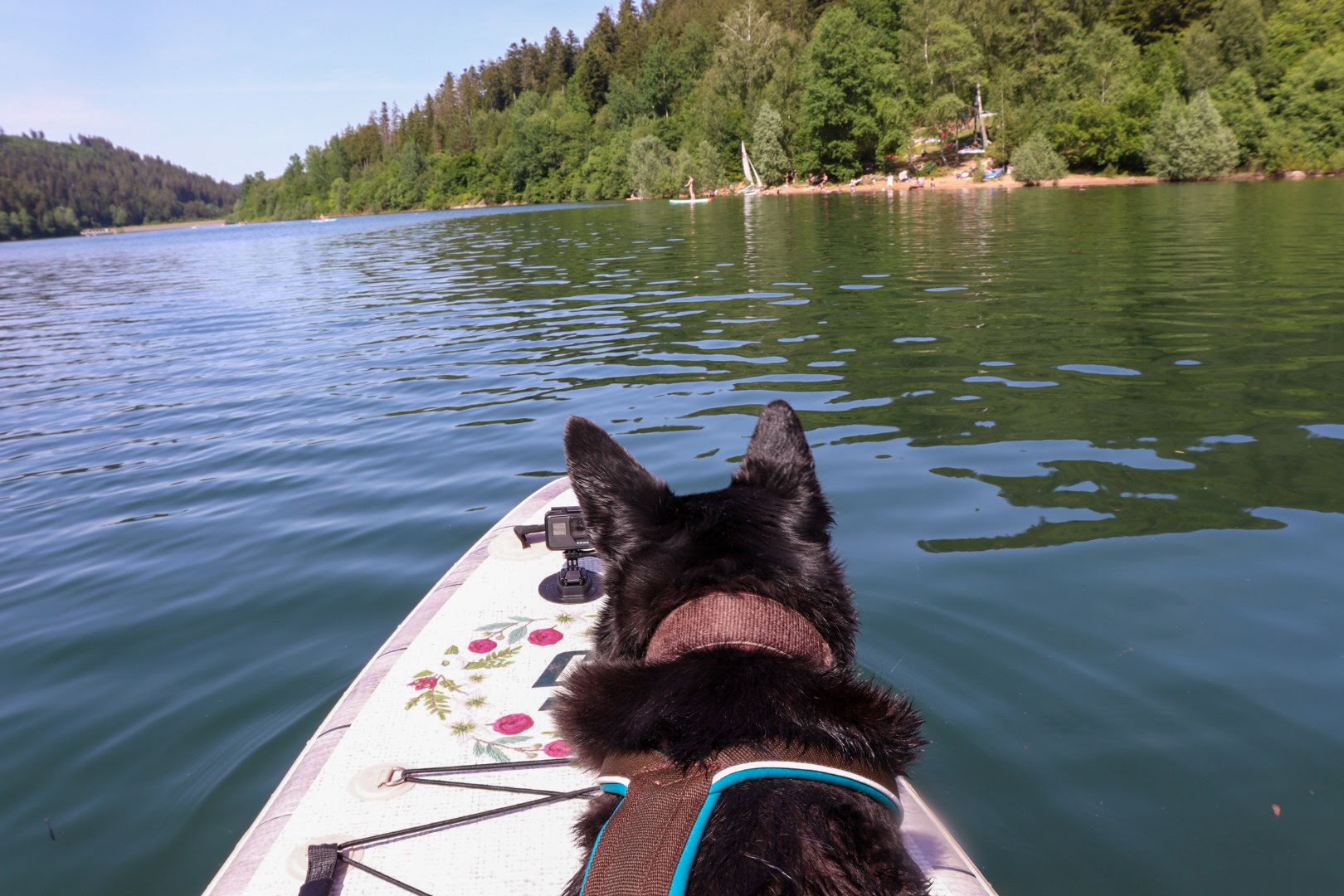 Cut off from the outside world
As I already knew, there is no network at the Nagoldtalsperre either. And so it was clear to us that we would spend the rest of the day and the next 2 days without a cell phone.
Again and again, it was really difficult for both of us to forget our mobile phones. We both kept reaching for it. It's fascinating how much control such a little black thing has on us.
It's not the other way around, as we often want to tell ourselves.
Change of plan, the 2.
So after we spent the afternoon at the lake and the plans changed on Saturday, we knew we had to go shopping at some point.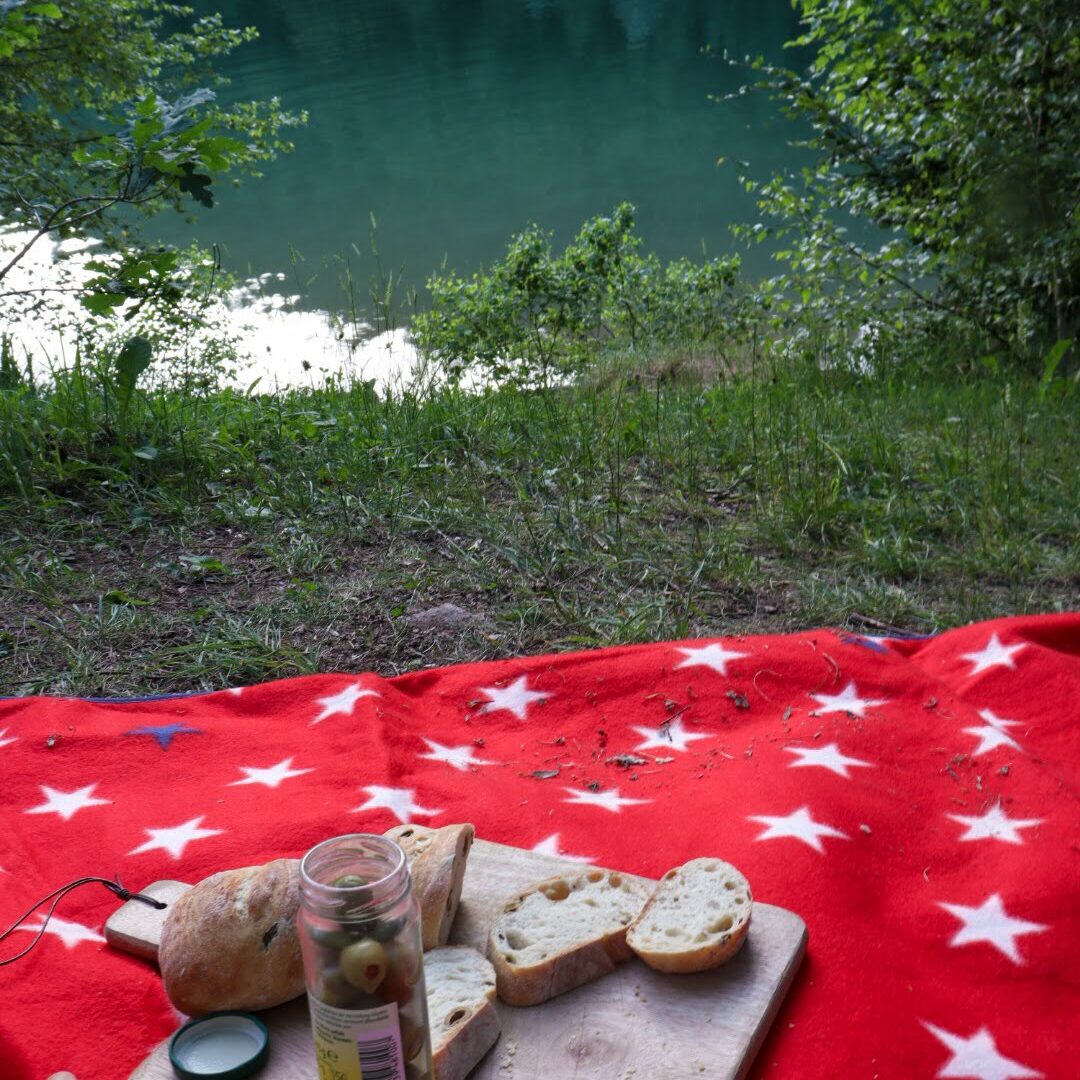 So we decided to do it straight away. Like that, we could have the entire Saturday at the lake without having to go away in between.
So we go shopping. On the way – there was network again – I let everyone know that we wouldn't be in touch until Sunday evening. What a relief that was! Just being unavailable can feel good, too.
Arriving back at the square, we have found a new place. Now we stood so that we could look directly at the lake. Not by the RV sites and closer to the road, but the view makes up for it 😊.
It was much easier for me to just leave the cell phone. I had already said goodbye for the next 2 days. But the habit was not entirely off the table
18.06.2022
High sensitivity
As soon as we got up, we got ready and went to the lake. We wanted a good spot, shaded and quiet for Koda. He's relaxed, but he doesn't like it when someone gets too close to our pitch, and we want to respect that.
I had packed my cell phone but didn't take it out, and it was staying that way throughout the day. It's surprising how quickly you can let it go – loose and calm.
Triggers
We lay in the square all day until late afternoon. It got fuller and fuller until there were even some youngsters lying next to us.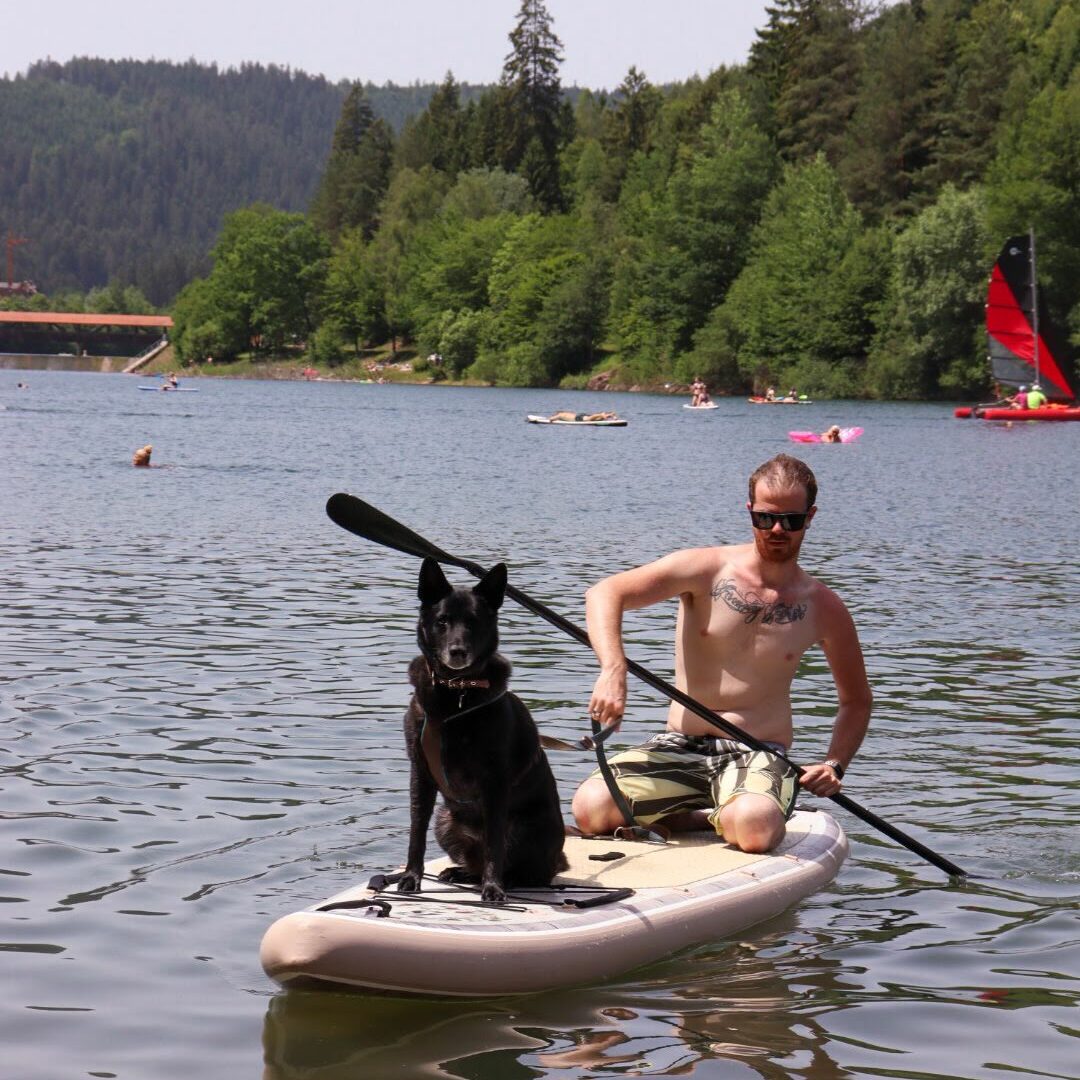 It made me realize how sensitive I am to my surroundings. If I had had my cell phone as a distraction, I might not have noticed it that much. But I felt more and more that I could not stand it well.
Sometimes I even go out on the lake with the SUP, but even then I only heard music, people, noises. As much as I concentrated just hearing and feeling the waves, the water, I just couldn't switch off.
This made me realize even more that I am highly sensitive. And thus that I don't honor and respect this high sensitivity through my daily habits, but constantly challenge it. The mobile phone with all its options and possibilities would be sufficient here. I don't even need to talk about social media. However, if I add this to it, over stimulation and excessive demands are just too pre-programmed.
Doing nothing
Funnily enough, I'm currently reading the book "Doing Nothing". That's incredibly difficult for me – thats why I'm practicing on this surprisingly net-free holiday.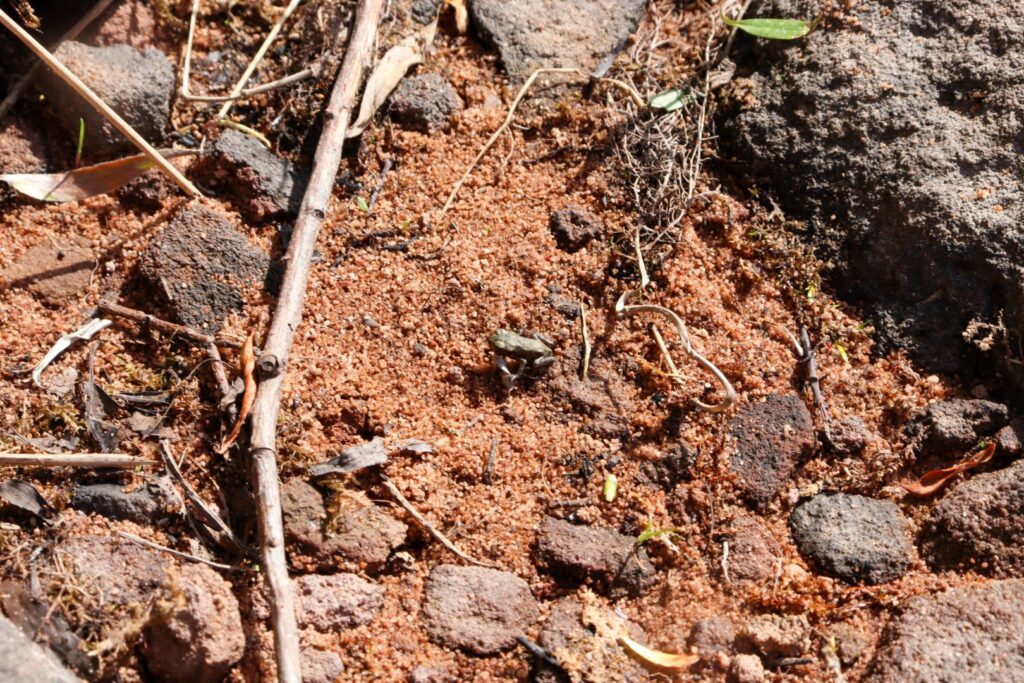 And no matter how exhausting it may be, it is still so beneficial. Because I am practically forced to do exactly what the title promises by reading it, but also during the breaks. And so I have already implemented more with this book than with so many other guidebooks.
So what I learned and realized is that I don't need my phone to have a good day. That I almost need to switch off and do nothing to be able to hear myself. That I need the Disconnect to do justice to myself and that I can listen to what my feelings, my intuition, show and tell me.
Escaping
After it got so loud in the square that I couldn't stand it any longer, we went back to the bus.
Unfortunately, it was very, very warm. I stayed in any way, simply because everything outside was too much for me. Max is out again with the SUP. Later, all three of us were out again. That was a nice final ride for the day. Koda became more and more confident throughout the day and even almost fell asleep at the end.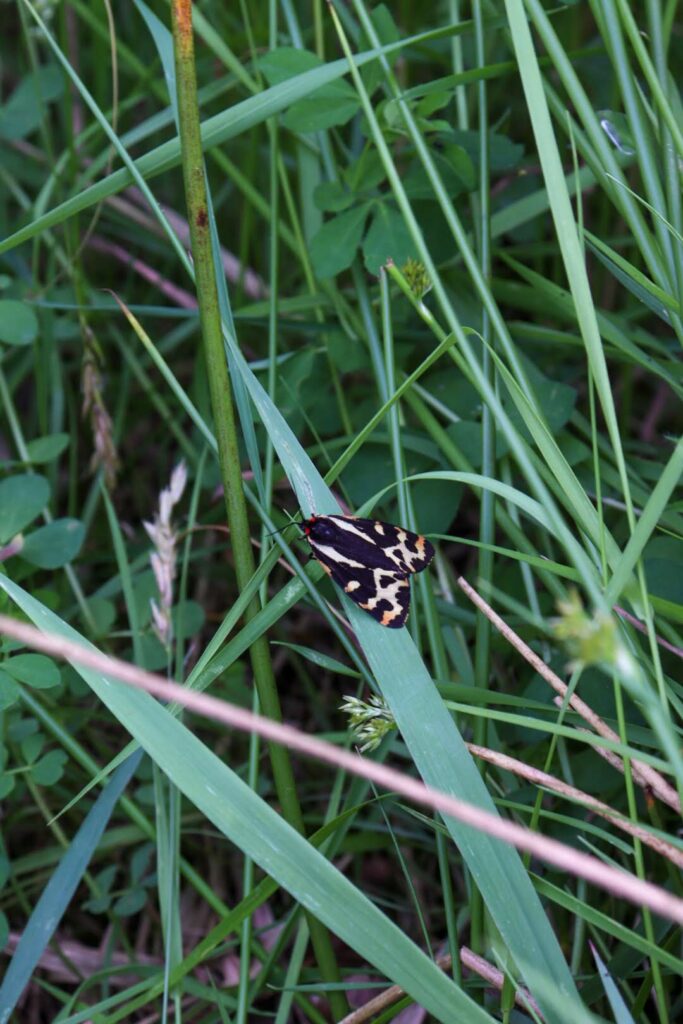 We ate dinner on the bus and spent the rest of the evening inside. There were still people at the lake, at the barbecue area, etc. for a very long time, and I had an overload of people.
Sometimes that's how it is, and that's perfectly ok! I can take breaks from people when I need them! I can pay attention to my sensitivity, it is a gift! And just like I can do it, so can you 😊.
19.06.2022
Paying attention to our needs
On Sunday, we went straight to a place that we had chosen the day before. A small private beach, quite undisturbed by others and not as central as the day before.
You can also pay attention to your own needs.
For example, we also pay attention to Koda's needs here – always as far away as possible from other people, he in a protected place close to us, in the shade, etc. So why do I so rarely pay attention to my needs in this regard?!
How good that the three of us are very similar. As few people, noises and smells as possible around us, and we are happy 😉.
Relaxed day
The morning passed very quietly. Only a few people went past our place into the water, we were always on the SUP in the water but also a lot on the beach.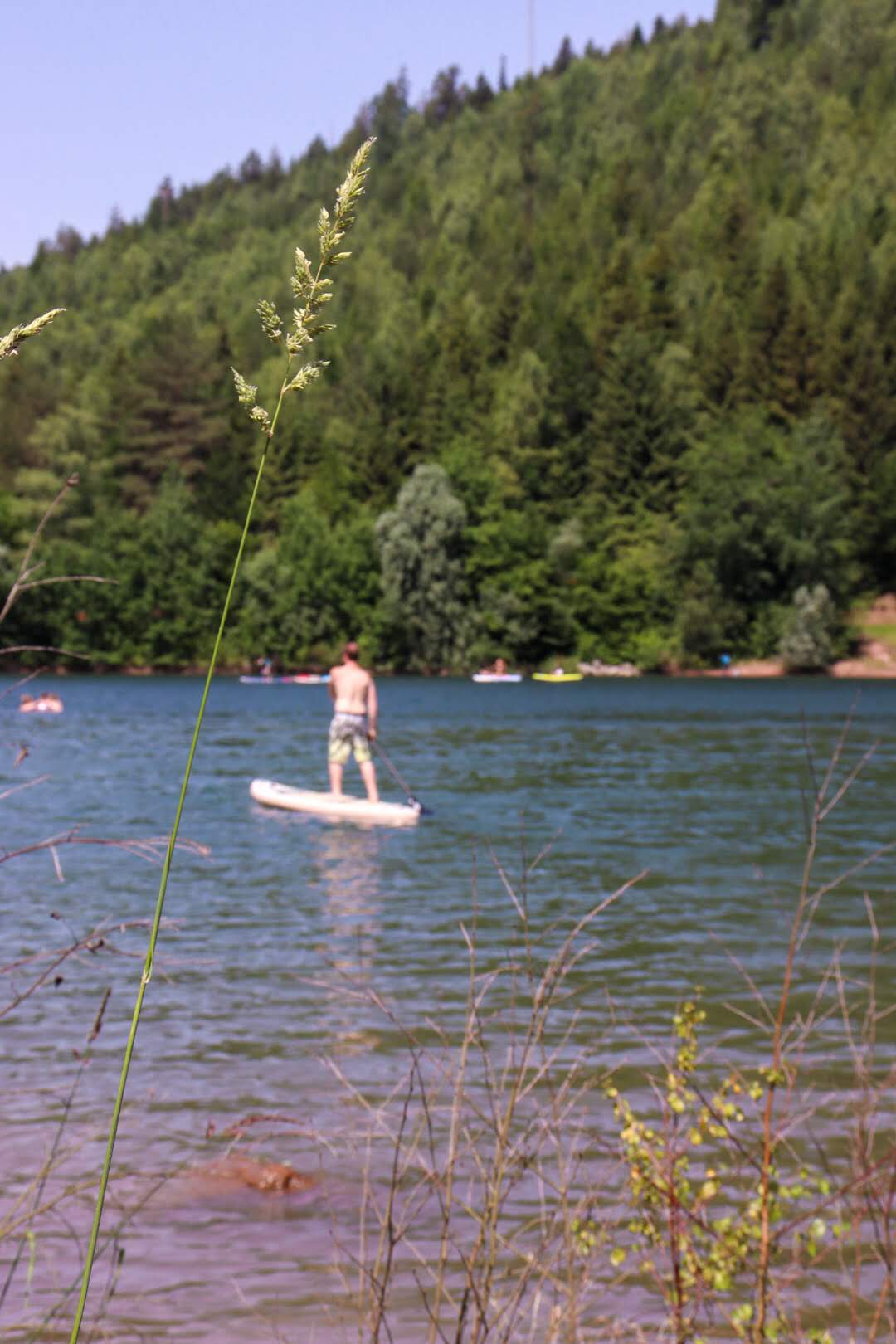 The wind was very strong, which made SUP riding much more strenuous.
Max was once at the very end of the dam, and it really took a long time to come back.
So I preferred to lie on the SUP right on the beach in the water and enjoy the cool water and the warm sun.
I got the payback for this in the evening – despite applying lotion several times, I was quite burnt.
Throughout the day we always got something to eat from the bus, the highlight was ice cream, which we kept in our small freezer compartment in the fridge.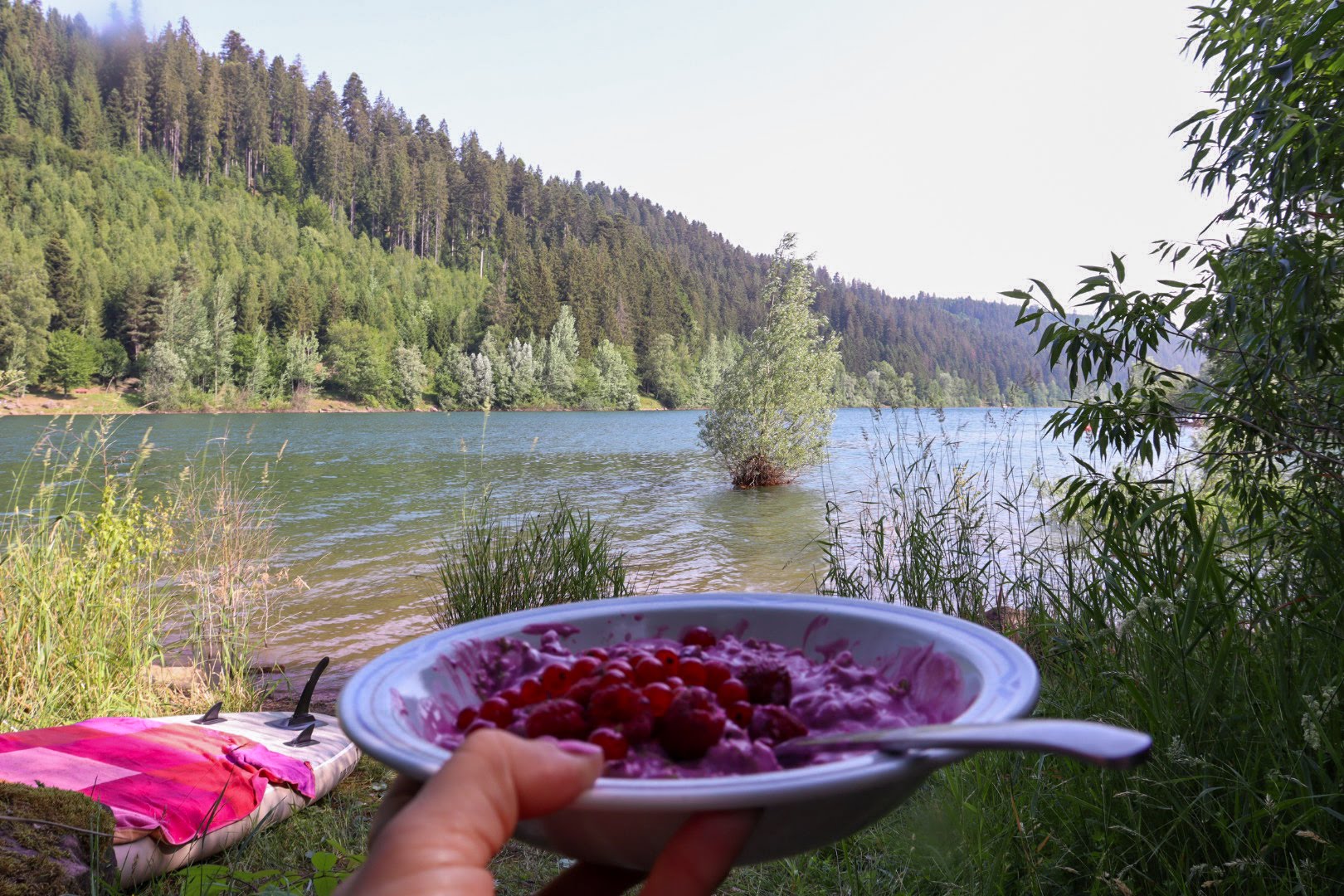 We had a really nice day and nice, pleasant encounters with other people.
In the afternoon we went back to the bus, packed up and made our way home.
Arrived home
The things are then always quickly stowed away again, the holiday is over, and everyday life is back faster than one is entitled to.
Nevertheless, I was able to take a lot with me this time and am incredibly grateful for the experiences.
I hope you have a nice day, evening or morning.
All the best,
Ronja
---
---